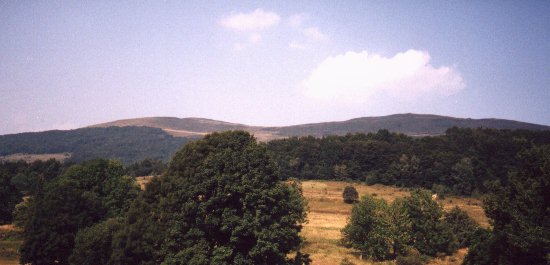 History and Extent:
Bieszczady National Park (29202 ha) includes part of the Polish Western Bieszczady; the park is located in Podkarpacie County, in the municipalities of Lutowiska and Cisna, ie. in the far southeast corner of Poland. The park was established in 1973 and at that time covered only an area of 5725 ha. By the extension in 1989 to 15710 ha it came to include almost everyone "Poloniny" (ie the distinctive mountains) as well as the Carpathian primeval forest with its beech and spruce vegetation. In 1990, a new extension to 27064 ha took place.
Types of nature and reserves:
Bieszczady National Park also forms the central part of the first European, tripartite (Polish-Slovak-Ukrainian) reserve, namely the International Biosphere Reserve "Østkarpaterne", and the park is one of the few mountainous areas in Europe with a well-preserved local plant population and fauna.
Over 80% of the park's area is covered by forest. Most often these are extensive wooded areas with beech or a mixture of beech and spruce, and in addition, until now, parts of forests have been preserved in their native state.
The rest of the park is made up of the mountainous features of this mountain range, called poloniny, as well as wooded areas that extend along the river valleys.
flora:
Around 760 species of vascular plants have been counted in the national park, of which close to 30 species are vigorous and another 60 are high mountain plants. Of the most interesting East Carpathian plants, you can find Viola dacica from the violin family, ianthus compactus (a carnation species), East Carpathian thistle, mountain corzon as well as Kotschy's cornflower (chaber Kotschy'ego). In addition, over 300 species of low, over 200 moss species and close to a thousand fungal species have been registered in the park.!http://www.spangshus.dk/turist/carynska3b.jpg!*fauna:*Bieszczady National Park is also a reserve for more than 200 species of vertebrate animals, including as rare mammals as the brown bear, wolf, lynx, bison and beaver. lizards, 20 foxes, a dozen wildcats and 2-4 bears, probably migrated from the reserve adjacent to the park, and where there are approx. 20 copies. In Bieszczady National Park they get a chance to survive, but the strict ban on hunting bears is only respected in Poland. The Slovakians hunt bears for certain seasons, and the Ukrainians regard the bear as a pest and practice shooting throughout the year.
From the list of the approx. 150 bird species in the park include king eagles, small scream eagles, black stork, white-backed woodpecker, large horned owl, owl and mountain whistle.
Our knowledge of insects and other invertebrates in the park is less extensive, but the total number of species is estimated at between 6000 and 10000. Particular attention should be paid here to the especially beautifully colored Rosalia alpina of the beech species (in German: Bock Alpine).
Tourists' access to the national park:
hiking:
Walking on marked trails is one of the most preferred forms of tourism in the park. An excellent network of tourist trails with a total length of approx. 150 km provides the opportunity to practice this activity.
Nature tours:
Marked hiking trails in connection with deepening the knowledge of nature. For this purpose, a number of educational nature trails have been established in the terrain, e.g. Wolosate – Tarnica or Suche Rzeki – Smerek. Each of these includes a book form guide with sketches and illustrations.
Horse Tourism:
In Bieszczady National Park, tourist activities such as horse riding and the like are mainly linked to the Stud for the Promotion of Hucul Horses (Stadnina Zachowawczej Hodowli Konia Huculskiego) in Wolosate. Guests are offered riding instruction, short excursions on horseback in the surrounding area, longer riding excursions (over several days), horse-drawn carriage and in winter with sled. There are 142 km of marked riding trails in the area of the national park and in the vicinity of which are arranged a number of stables and resting places. The stud farm in Wolosate teaches riding in its own riding house – for individuals as well as groups of tourists.
Cycling tourism:
In the area of the national park, cycling is only allowed on public roads as well as on certain forest roads with a more solid surface – specially designated by park supervision. Taking into account this popular form of activity, specially marked bicycle paths have been established in the nature parks adjacent to the national park.
Ski trip Tourisme:
In the area of the national park there is only the opportunity to grow downhill in one place, namely at Ustrzyki Górne. For the protection of nature, the establishment of new slopes is not planned, either in the park area or in the areas adjacent to the park. On the other hand, it is possible to ski on certain tourist trails and forest roads.
(The main center for winter sports in Bieszczady is Ustrzyki Dolne in the northern part of the area).
National Park addresses:
Administration: Bieszczadzki Park Narodowy, Ustrzyki Górne, 8-714 Ustrzyki Górne Information Center and Educational Center: Bieszczadzki Park Narodowy, Lutowiska, 38-713 Lutowiska, tel. + 48-13 4610350, fax 48-3 4610351 oie@oie.bdpn.pl \ museum and Scientific Center: Bieszczadzki Park Narodowy, ul. Belzka 7, 38-00 Ustrzyki Dolne.
Bieszczady is the perfect destination for tourists who appreciate the tranquility, peace and beautiful scenery.
links
Bieszczadzki Park Narodowy
Bieszczady Forestry Railway
Translated into English by Google Translate. Spangshus.dk accept no liability for any errors or omissions in translation.