County: Lubelskie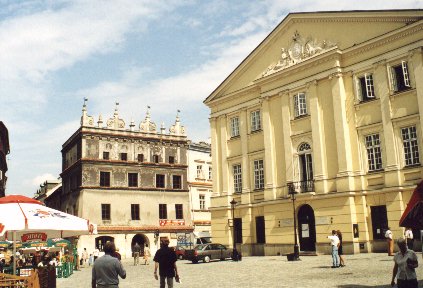 Lublin. Downtown
Location and history
The Lublin region is located in eastern Poland, predominantly between the Wisla and Bug rivers, bordering south to Podkarpacie, west to Holy Cross region and Mazowsze, north to Mazowsze and Podlasie, and east to Belarus and Ukraine.
In the northern part of the region you will find the southernmost part of the Podlasie plain with widespread forest growth. Across the south extends the Lublin Highlands (part of Roztocze). To the east is a lake with no less than 67 lakes (part of Polesie).
The area is centrally flooded by the Wieprz and Bystrzyca rivers. The major rivers Wisla and Bug are respectively. western and eastern boundary over a long stretch.
In terms of business, the Lublin region is primarily an agricultural area.
National Parks: Polesie National Park and Roztocze National Park.
The first settlement in the present Lublin urban area dates to the 6th year. From the 10th year there was a trading place on the site with associated church; in the 12th year. a fortified city arose here, and from that time the name is known "Lublin".The first Lublin County was established in 1474; it mainly consisted of the area between Wisla and Wieprz. The current Lublin County, with its present extent, was created per. 01/01/1999.
Accommodation

h4. Some towns in the county
Biała Podlaska – Biłgoraj . – Chełm . – Hrubieszów. – Janów Lubelski. – (Janów Podlaski.) -Kazimierz Dolny . – Kraśnik . – Krasnobród . – Krasnystaw. – Łęczna. – Lubartów . – Lublin – Łuków. – Opole Lubelskie. – Parczew. – Puławy . – (Radzyń Podlaski.) – Ryki. – Świdnik . – Tomaszów Lubelski . – Włodawa. – Zamość .
links
Translated into English by Google Translate. Spangshus.dk accept no liability for any errors or omissions in translation.