County: Lubuskie

From the pedestrian zone of Zielona Góra
Location and history
The Lubusz region is located in the West Pole; It is a border area with Germany and in Poland is surrounded by the regions: West Pomerania (north), Wielkopolska (east) and Lower Silesia (south). Main cities: Gorzów Wielkopolski and Zielona Góra.
The Lubusz region is not a historical region of the same scale and significance as Pomerania, Wielkopolska, Mazowsze and Malopolska. During the 7th century, the Slavic tribe: the lebus (lubuszanie) populated the area. "Ziemia Lubuska" (Lubusz area, Latin: Terra Lubus) is known from the late 1100s, named after the tribe's name and the town of Lubusz, but the area – which was geographically located on both sides of the river Odra's middle race – was subordinate respectively. Pomerania, Wielkopolska and Silesia.
In 1945, the part of the area located east of the Odra River returned to Poland after several centuries as a German province. The boundaries of the present Lubusz County have extended far beyond the historical boundaries. The town of Lubusz, the center of the Diocese of Lubusz, is called in German Lebus and is nowadays on the German side of the border (north of Frankfurt an der Oder). The area just west of Lebus is called in German "Land of Lebus" or "Lebuser Land".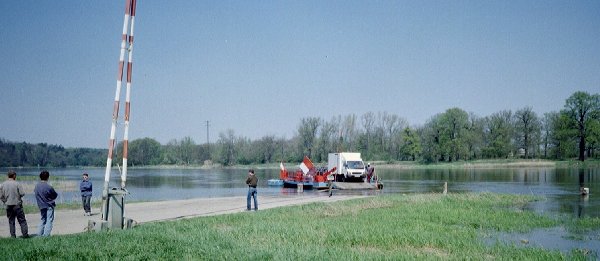 Ferry crossing the river Odra at the village of Milsko, east of Zielona Góra (county road no. 282).
Accommodation

Lubuskie – (Polish, German and English). – Information for tourists in the English and German versions.
Some towns in the county
Babimost . -Bytom Odrzański . -Gorzów Wielkopolski . -Gubin. -Kostrzyn. -Krosno Odrzańskie . -Łagów . -Lubniewice. -Międzyrzecz . -Nowa Sun. . -Sława . -Słubice . -Strzelce Krajeńskie. -Sulęcin. -Świebodzin . -Torzym . -Wschowa . -Zielona Góra . -Żagań . -Żary . -.
Other Internet sites and sources
Lubuskie – (Polish, German and English)
Translated into English by Google Translate. Spangshus.dk accept no liability for any errors or omissions in translation.