Office: Podlaskie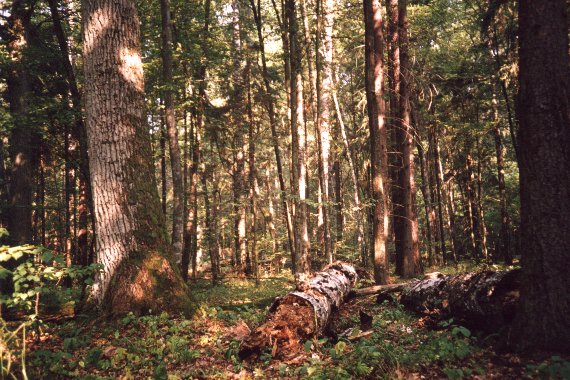 Deep in the Białowieża primeval forest
Location and history
Podlasie is a historic landscape around the Bug river's middle race in northeastern Poland, bordering Belarus to the east. To the north and west lies Masuria, to the west Mazowsze and to the south Lublin region. The main town is Białystok.
Also within the boundaries of the present Podlasie County are the Suwalki area (Suwalszczyzna); moreover, parts of the present Mazowsze County and Lublin County should be included in the historic Podlasie.
In Podlasie there are numerous unspoilt and unique natural areas: as the foremost count the primeval forest Białowieża with the Białowieża National Park and the wetlands around the Biebrza River (Biebrza National Park).
Far to the northeast, near Suwalki lies Lake Hancza, formed during the ice age. It is the deepest lake in both Poland and the whole of Central Europe. Lake Hancza is 227 meters above sea level and its depth reaches 108.5 meters; the area is 311 ha. with a length of 4.5 km and a width of 1.2 km. The clear water and good visibility make the lake a divers' paradise.
Białowieża National Park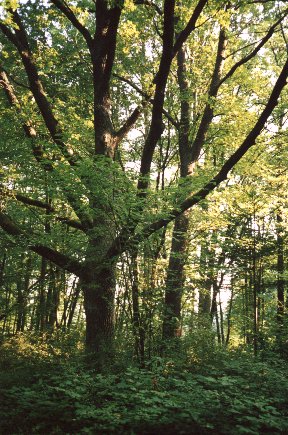 From the Białowieża Forest
In the early Middle Ages, Russian settlements took place in the area, later Lithuanian and then Polish. The word Podlasie probably comes from Russian / East Slavic "podlasza", again by "pod lachami", i.e. the area where Polish tribes (Lachowie) resided. Podlasie was first part of Kiev-Russia. In 1569 it came under the Polish crown. During Poland's divisions, the area was first under Prussian and Austro-Hungarian, later under Russian rule. After World War I, the area became part of the new Poland. Suwalszczyzna: The name Suwalszczyzna comes from the city name Suwałki and the area is located in the northeast corner of Poland. In the Middle Ages, this area was inhabited by the Jat wings (whose language: Jat Viking, like Prussian, belonged to the Baltic language group); these were later forced into the Grand Principality of Lithuania; after the formation of the Polish-Lithuanian Union in 1385, contacts with the Poles began. The Suwalki area has always been a border area; partly it was located just east of the Crusader state, and partly it was an area where you could meet Lithuanian, Russian, Polish, Jewish and German settlements. One of the Polish kings settled a group of Tatars there. The area's cultural and religious diversity today bears witness to the Roman Catholic churches, the numerous Russian Orthodox churches – often wooden buildings, the evangelical churches, the old faithful Orthodox church buildings – called "molenny" – Jewish synagogues and Islamic mosques.
The Suwałki area is sparsely populated and the population is still declining. You sometimes talk about the formation of it "Wild East" with abandoned agricultural properties and farmland where young forest grows up. But nature does not lose its beauty, and you can also still meet charming villages of uniform old settlement, where brick houses are a rarity and where farmhouses and barns are fitted with traditional decorations. You can see watermills, windmills and many crosses along the roads. Looks like the time here has stopped long ago.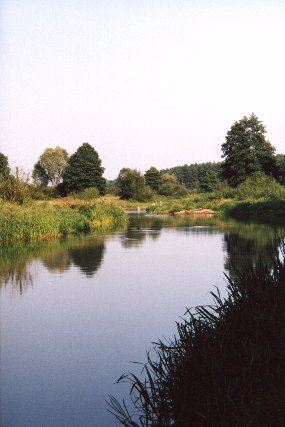 The river Narew at Samułki
subregions:
See the special page on: Białowieża
Accommodation
Some towns in the county
Białystok . – Augustow . – Suwałki . – Sejny. – Kolno. – Lomza . – Zambrów . – Grajewo . – Mońki. – Sokółka. – Bielsk Podlaski – Hajnówka . – Kleszczele . – Siemiatycze . – Drohiczyn. – Mielnik. – Brańsk. – Białowieża . – Knyszyn. – Tykocin. – Supraśl . – (Wysokie Mazowieckie).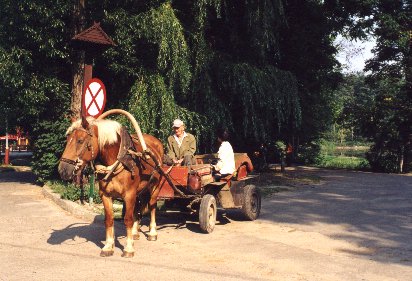 Białowieża. From the entrance to the national park
Other pages about Podlasie:
General links:
Podlasie
waterways:
Canals and other waterways in northeastern Poland
National Parks:
Białowieża National Park
Translated into English by Google Translate. Spangshus.dk accept no liability for any errors or omissions in translation.