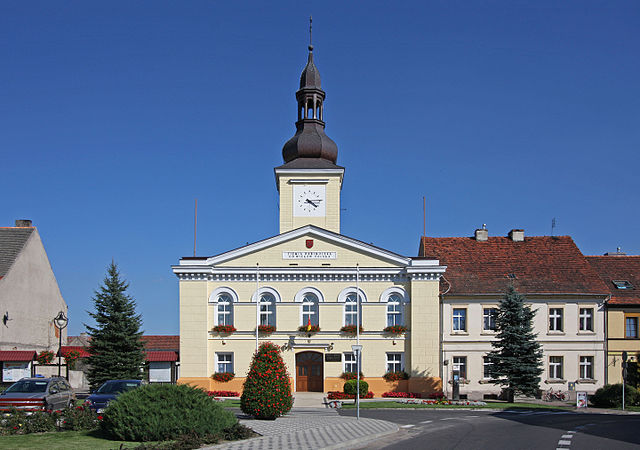 Babimost Town Hall. Photo by: Silu, 16913 Babimost ratusz, CC BY-SA 4.0
Distance
Kargowa
12 km S,
Sulechów
18 km SV,
Zbąszyń
17 km NE,
Population
3.800
Location and history
Babimost is located in Lake Łagów in western Poland, southeast of the city of bwiebodzin.
Babimost is an old settlement, which in the second half of the 12th year. was owned by the Cistercian Order. In 1397, Babimost was granted market town rights. During Poland's division, Babimost – from 1793 – was subject to Prussia. In the city and the surrounding area, for many years, vigorous activities and struggles to preserve Polishness – faced the equally active and threatening Germanization. In 1919, the city was conquered by Polish resistance forces, belonging to the great Polish uprising.
In the city there is a long tradition of needlework in the form of embroidery and lace.
Tourist attractions
Attractions:
The parish church, consecrated to St. Wawrzyniec , is in late Baroque style from 1734-40; the late classicist façade with two towers was built after 1833. The church houses a late Gothic wing altar from 1499.
The Evangelical Church in the classicist style is from 1782-89. The building no longer functions as a church.
City Hall in the classicist style with the tower was built around 1850. The building was severely damaged in 1945, but rebuilt in 1961-63, the tower only in 2004.
Two wind turbines in wood dates from the 18th century.
local Museum , whose ethnographic and historical collections are largely about the struggle for Polishness in the area.
monument honoring the partisans of the great Polish uprising.
Surrounding Area
Near the town are several lakes, the closest to the east: Lake Chobienice and Lake Grójec. Lake Chobienice is an elongated lake with a length of 3.9 km; an island in the lake is partly an ornithological reserve. – In connection with the lakes, you can practicing boating and kayaking. – 6 km south of town in the direction of Kargowa lies Lake Linie with lovely clean water, a beautiful bathing beach, tent site and many other amenities.
West of Babimost is Laski, a forest reserve of 43 hectares; it is a mixed forest with oak, beech, birch, electricity, spruce and larch as well as a rich, diverse undergrowth. Tourists can visit the area on foot or by bicycle.
Accommodation
Other Internet sites and sources
Babimost – (In Polish, French, English and German)
Translated into English by Google Translate. Spangshus.dk accept no liability for any errors or omissions in translation.