Your travel impressions from Poland
Riding holiday with stay at the Bielin Stud – holiday in Poland July 2004
On Monday, July 5, at 1 p.m. 1515 after 801 km drive we parked in front of the main building at BIELIN stud farm in western Poland. A very friendly lady Maggie (a name we have good experiences with from home) welcomed us, showed us our rooms, the dining room and the other important rooms. We arrived a little late for the afternoon ride, but then took the opportunity to take a closer look at the surroundings and what should be our home next week.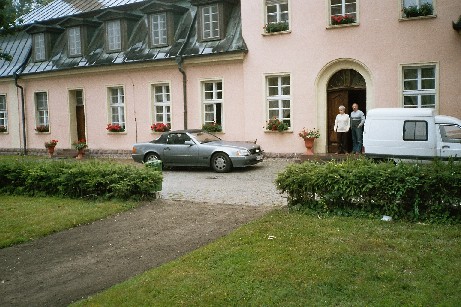 First, a little about the accommodation: The main building, a large, beautiful and well-maintained building with 40 beds in 2-, 3- and 4-bedded rooms on two floors. All with private bath, clean, neat and with good beds. A equestrian room with television and incidentally the only room where smoking was allowed. In addition, a large cozy living room with open fireplace, which was often lit up. The living room also contained a very well-stocked bar with very reasonable prices.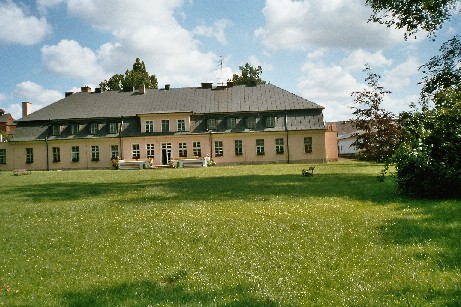 From the living room exit to a large terrace and garden / park with bonfire and barbecue area.
The courtyard is surrounded by many different buildings in reasonably good condition. On the one hand loose stables with jumpers for jumps and foals, on the other hand loose stables and runs for young horses, stables for the horses used daily, a very large and fairly new stallion with very large boxes for about 20 breeding stallions. Other buildings with workshops and garages.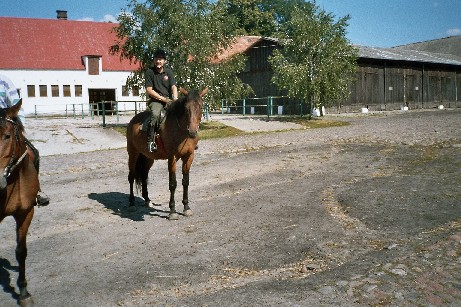 Of course it was very exciting to see the horses that we had to spend so much time with and we were certainly not disappointed.
The stud has approx. 120 horses, of which 35 are used for riding. They were very similar to each other, large (167-172 cm), dark brown, calm and good-natured, but willing and easy to ride, incidentally all breeding hops.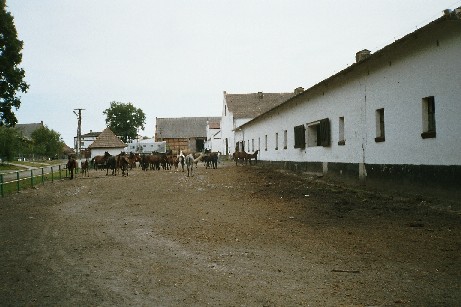 The days began with breakfast at 830. Horse delivery at 930, usually the same horse every morning. Striking and hoof cleaning, none of the horses had been shot since there was no rock or hard bottom at all in the terrain. Handing out headgear and saddle and then each one had to saddle up, though with help for beginners. The saddles were really nice to sit in.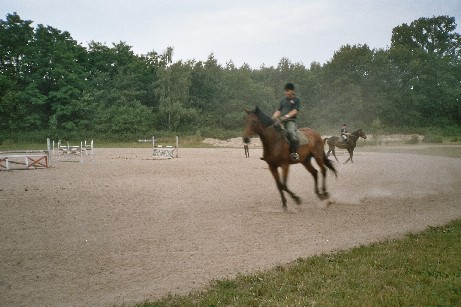 There was also a Danish family who had never been near a horse before, but who also had a wonderful week.
Once everyone was on horseback, we stepped out to the practice ground, where beginners were taught by a female instructor, while the more experienced rode out into the woods with a leader in the lead. During the week we were very rarely the same place in the forest, which seemed to be endless with all types of forest, from new planting to primeval forest. An amazing riding area where we seemingly had to get everywhere.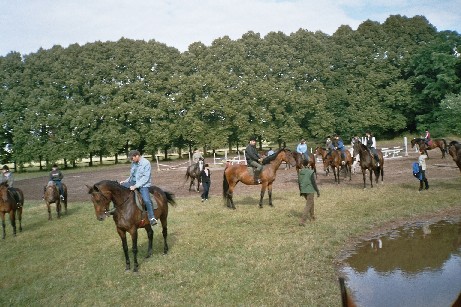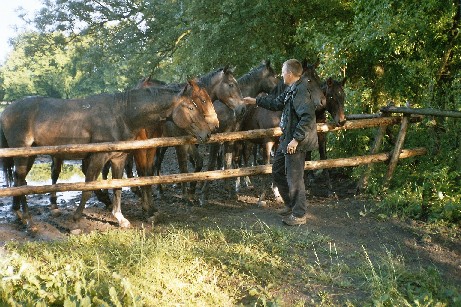 The morning tour ended at noon, and then there was just time for a quick bath, change of clothes and a single beer before noon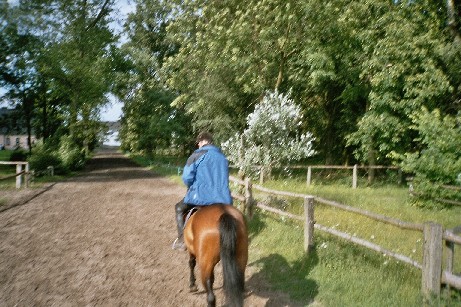 The afternoon rides proceeded in much the same way, but usually on a different horse. Sometimes a little jumping on the practice ground, but always a picnic before leaving home at 1730-1800 time.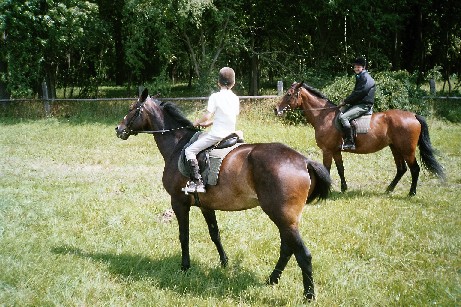 The day ended with dinner.
Notes for the trip: An incredibly nice week, along with good, well-groomed horses, nice people and a magnificent scenery.
All together: riding, room and food for 200 Euro (2004 prices). Understand who can?
We would love to go again!
Per and Karl Otto
… Want to know more, go to: www.bielin.pl .
The authors of the article: Per Studsholt and Karl Otto Andersen
The above text and pictures are brought by permission of the authors. The article was previously brought to the Sports Riding Club Aalborg's website.
Translated into English by Google Translate. Spangshus.dk accept no liability for any errors or omissions in translation.