Holiday house at Maków Podhalański (Southern Poland)
Rent per Week: High season DKK 4800, Mid season DKK 4500, Low season DKK 4000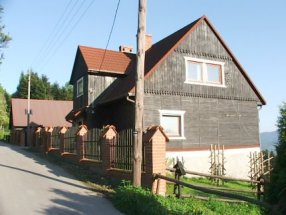 Specifications:
Living area 240 m2,
680 meters above sea level,
8 people,
Built in 1947,
Remodeled and renovated
1998-2000,
Garden,
Fenced plot: 2100 m2,
Fenced parking,
3 terraces,
Pets not allowed,
Electricity consumption excl.
Equipment :
Color TV,
Free internet access,
Washing machine
Kitchen: hot and cold
water,
Bathroom with shower,
WC, hot and cold
water,
Fireplace in living room,
Electric cooker,
Wood Stove,
Fridge with freezer box,
Vacuum cleaner,
Coffee maker,
Floor heating,
radiators,
Free consumption of wood for stove and fireplace,
Garden furniture and umbrellas.
Distances
Kiosk 1000 m,
Larger shopping 3 km,
Restaurant 3-4 km,
Stream 3 km,
Swimming pool 9 km,
Skiing 23 km,
Maków Podhalański 3 km,
Sucha Beskidzka 9 km,
Krakow 65 km,
Zakopane 65 km,
Oświęcim (Auschwitz) 58 km,
The Slovak border (Chyżne) 60 km.
Lay out:
Ground floor:
Hall (with desk with internet access),
living,
Bathroom.
1st floor:
Hall (with living area),
Bathroom.
3 bedrooms:
1st bedroom: 1 double bed + 1 sofa bed (4 beds in total),
2nd bedroom: 1 double bed,
3rd bedroom: 2 single beds.
Basement:
Utility room with 2 cookers and dining nook,
Dining kitchen with table and cupboards,
Pantry,
Utility,
WC.
Bathrooms: 2,
WC: 3
Ground floor: 1 bathroom with WC and shower,
1st floor: 1 bathroom with WC and shower,
Basement floor: 1 WC.
Additional Information:
Located on hillside with great views.
Part of former small country estate.
Farmhouse totally remodeled and renovated.
The house is in 3 levels with stairs inside and out.
Charger building converted into garage and fuel store.
Parking lot at the former courtyard.
Optional arrival by arrangement.
Shorter stays than 1 week only by prior arrangement.
!http://www.spangshus.dk/images/makowpodh/2005/2005.13 013c.jpg!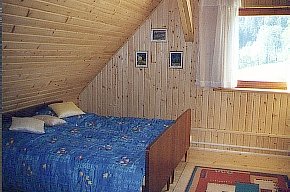 !http://www.spangshus.dk/images/makowpodh/2005/2005.13 001b.jpg!
Photo Gallery: More pictures of the house, inside and out – as well as pictures of the view from the house.
Other guests' impressions of the house and surroundings
Booking Calendar
Owner's address:
Maryla Spangshus
adr .: Kroghsvej 21, 7500 Holstebro
e-mail: spangshus@spangshus.dk \
fax: 96 10 05 58
tel: 97 42 54 01
Translated into English by Google Translate. Spangshus.dk accept no liability for any errors or omissions in translation.