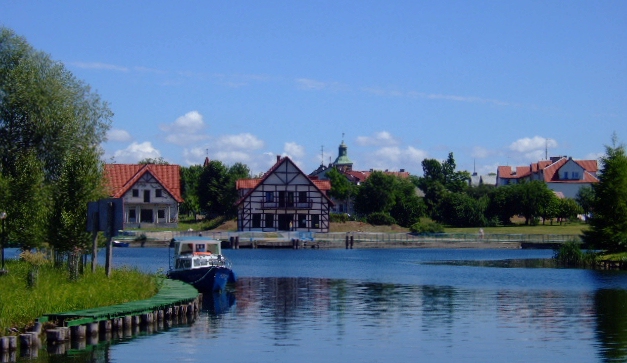 From the marina on the river Węgorapa in Węgorzewo, – Photo by: Hans Weingartz, Węgorzewo, wejście do mariny na Węgorapie (Angerburg2), CC BY-SA 2.0 DE
Distance
Population
11.438 (2017)
Location and history
Węgorzewo is located in northeastern Poland, close to the border with Russia (Kaliningrad enclave). The town is scenic, surrounded by lakes and flowed by the river Węgorapa. Two canals: the Węgorzewo Canal and the Mill Canal connect the rivers south and north of the city. In one place, the river expands to a lake-like area. Here you will find marina.
Węgorzewo was founded in 1335 and became a market town in 1412.
Tourist attractions
Węgorzewo Canal and the Mill Canal
Węgorapa Rivers
Beaches on the river
Marina'one.
Here, both pleasure boats, fishing boats and passenger boats are added
Crusader fortress
from 1398 rebuilt in the first half of the 18th century. in Baroque style
St. Peter and Paul's Church
bed Gothic from 1605-1611, expanded by transverse ship in 1729 and increased by tower in the middle of the 18th century.
City Hall
from the 19th century.
Museum of Folk Culture
The Orthodox Church
Surrounding Area
River Węgorapa.
Mamry lake.
- immediately southwest of the urban area. One of the largest lakes in Poland.
Accommodation
Eating Out:
Other Internet sites and sources
Translated into English by Google Translate. Spangshus.dk accept no liability for any errors or omissions in translation.