The former princely palace in Zabór, now the State Sanatorium for Children
Distance
Population
1.029 (2009)
Location and history
Zabór is a rural municipality located east of Zielona Góra and within Zielona Góra district. While the area was under Prussia / Germany, the place was called Saabor.
The first records of the village of Zabór date from the 16th century. The name comes from the Polish place "za borem sosnowym", i.e. "behind the pine forest".
In 1553, Zabór was owned by the Tschamer family, descended from the Knights of Czambor. Later the site was owned by other families, such as the generals Dunnewald (in which time the castle was built) and Cosel. Most recently, the castle in Zabór was the residence of the German prince Schönaich-Carolath.
Tourist attractions
The castle in Zabór was built by Count Johann Heinrich Dunnewald and is built in Late Baroque style. The castle's architect had the French palace in mind. A 15 m wide and 3 m deep moat (today dry) surrounded the castle. Behind the castle stretches a large – today somewhat neglected – park. Today, the building houses a children's sanatorium.
Accommodation:

Powiat Zielonogórski (district side)
Links to other pages:
Powiat Zielonogórski (district side)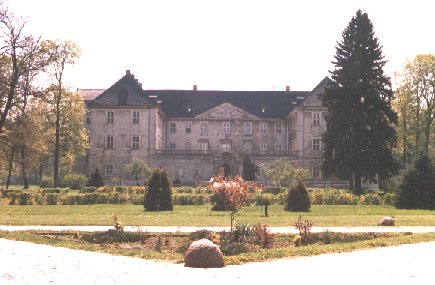 Translated into English by Google Translate. Spangshus.dk accept no liability for any errors or omissions in translation.