The square in Żary
Distance
Olszyna (grænse)
30 km V,
Berlin
186 km NV,
Lubsko
20 km NV,
Population
40.000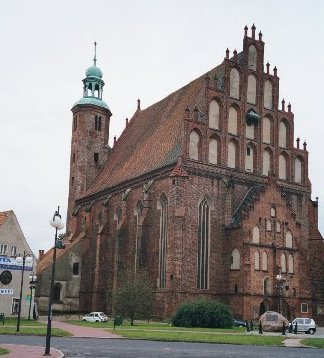 The Church of Jesus Heart in Żary
Location and history
The town of Żary is located in the southern part of the present Lubusz region (Województwo Lubuskie) – in the former Sorbian-Silesian borderland. It is the largest and most important city in the Polish part of the Lausitz area.
The name "Zara" probably dates back to a small, independent Slavic tribe and is found for the first time in the Thietmar Chronicle of 1007. The area belonged early in the Middle Ages under the Land of Lausitz and the Silesian Piast princes. Commercial rights were granted to the city in 1260. From 1364 the city belonged to the Czech kings, from 1635 to Saxony and from 1815 to Prussia. In 1945, almost half of the city was destroyed; after the war – under Polish rule – a rebuild followed.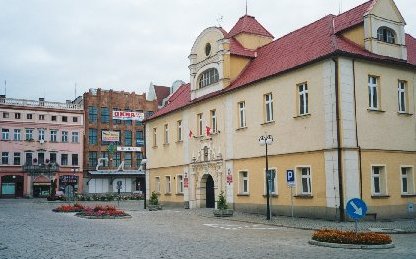 City Hall in Żary
Tourist attractions
Dewin and Biberstein families castle in the Northwest District; a mighty 13th-century building, later rebuilt in Renaissance style.
Promnitz Mansion in Baroque style, designed by Italian architect Giovanni Simonetti.
The Gothic The Church of Jesus Heart kneeling high above the old city. The present church is mainly from the 15th century, but parts of the wall of the north wing date from the 12th century.
The newly restored town hall from 14-15 years.
Remains of the medieval city wall and other defense works.
Borgerhuse in the square and in Bolesław Chrobry street, the oldest of which is from the 17th century.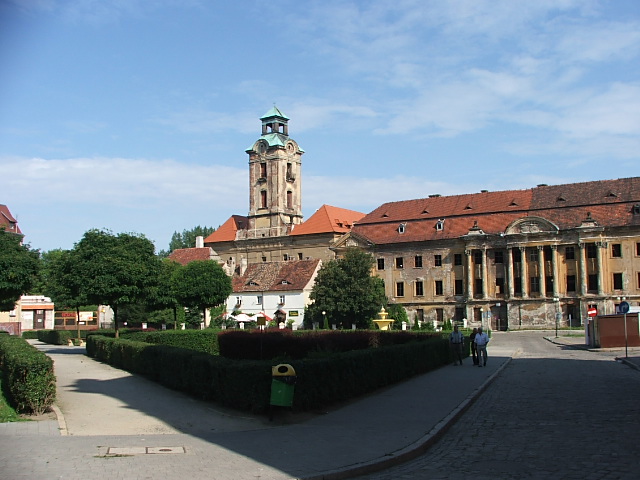 Dewin / Biberstein Castle and Promnitz Mansion
Surrounding Area
Żary is the capital of a powiat (district).
Accommodation

h4. links
Miasto Żary City official site, Polish, English and German version.
Translated into English by Google Translate. Spangshus.dk accept no liability for any errors or omissions in translation.