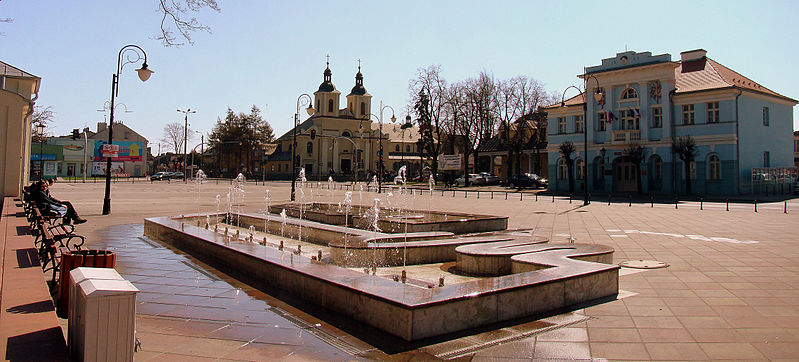 Tadeusz Kościuszko Square in Aleksandrów Łódzki. – Photo by: © Mateusz War. /Wikimedia Commons/ CC-BY-SA-3.0,2.5,2.0,1.0, 1004 Aleksandrów Łódzki EZG 1, CC BY-SA 3.0
Distance
Konstantynów Łódzki
9 km S,
Łask
38 km SV,
Population
20.000
Location and history
Aleksandrów Łódzki is located northwest of Łódź. The city is the center of a garment and knitwear industry.
The first market town rights were granted to the city in 1822. In the beginning, Aleksandrów was the residential district for textile workers from the Łódź area. Although the city developed lively in the 19th century. its significance began to decline after 1870 due to competition from Łódź. The city was extensively destroyed during World War II.
Tourist attractions
Attractions:
St. Raphael and St. Michael's Church is built in classicist style 1816-1818.
Slagterboderne in the city center was erected by the city council in 1829, designed by the famous architect Henryk Marconi. They were originally intended as bakery and artisan shops.
City Hall.
The town hall was built in 1824. It is believed that the architect behind the project was Jakub Kubicki, who was responsible for the construction of the Belweder building in Warsaw.
Other attractions:
Swimming pool.
City swimming pool "Olimpijczyk" with a wide range of offers to visitors is located in the city center, by ul.Bankowa.
Surrounding Area
Łódź . – See the description of this city.
Lake Zgniłe Błoto.
To the south-west of the town a number of ponds have been connected, forming a lake; Here, tourists can use rowboats, sailboats, pedalos and kayaks and otherwise enjoy nature and the water.
Accommodation
Other Internet sites and sources
Translated into English by Google Translate. Spangshus.dk accept no liability for any errors or omissions in translation.