(Short edition)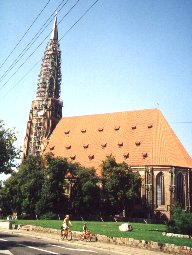 Chojna. Church of the Virgin Mary
Distance
Trzcińsko-Zdrój
12 km E,
Cedynia
20 km SV,
Lipiany
46 km NE,
Dębno
39 km SE,
Myślibórz
33 km SE,
Kostrzyn nad Odrą
51 km SE,
Pyrzyce
52 km NE,
Schwedt (Tyskland)
16 km NV,
Krajnik (grænseovergang til Tyskland)
11 km NV,
Population
6.943 (2007)
Location and history
Chojna is located in the southwest of West Pomerania with 11 km northwest to the German border marked by the river Odra (Oder) and 68 km north to the regional capital Szczecin.
Tourist attractions
Selection of attractions:
Church of the Virgin Mary is a cathedral and built in the Gothic style in the 14th century.
City Hall dates from the first half of the 14th century. Construction style: Gothic.
Bymuren was built in the 13th-14th century; In the wall are fortified towers and two city gates: east and west.
Accommodation
Other Internet sites and sources
Chojna (Town official page)
Translated into English by Google Translate. Spangshus.dk accept no liability for any errors or omissions in translation.