(Short edition)

The old square in Gorzów Wielkopolski. – Photo by: anonymous, PL Gorzów Staryrynek, CC BY-SA 3.0
Distance
Sulęcin
41 km S,
Krzyż Wielkopolski
63 km NE,
Witnica
25 km SV,
Myślibórz
36 km NV,
Wronki
97 km SE,
Dębno
42 km V,
Pniewy
82 km SE,
Drezdenko
50 km NE,
Pyrzyce
58 km NV,
Population
125.408 (2010)
Location and history
The city of Gorzów, located in western Poland on the river Warta, has its nickname "Wielkopolski" because of its affiliation with the historic district of Wielkopolska (meaning "Greater Poland"), just as in Denmark, cities with identical names are given names such as Falster, Zealand, Mors etc. Today the name is a little confusing, because you now have an administrative county named Wielkopolska (Województwo Wielkopolskie). This county is located east of Gorzów, while the city itself is now located in Lubusz County (Województwo Lubuskie), established in 1999, comprising the majority of Gorzów and Zielona Góra counties as well as a small part of Leszno County. Gorzów is the seat of the county governor (the local representative of the government) and thus shares the role of the county's capital with Zielona Góra, the seat of the county council and its administration.
Gorzów was founded in the middle of the 13th century around the small river Kłodawka's outlet in Warta. At that time, the surrounding land area – the Lubusz country – was dominated by divisions in the early Polish state, by the western neighbors, that is, the firemen. The town was founded under the name Landisberch Nova, that is, the city's German name became Landsberg. Only in March 1945 did the city become Polish and got its Polish name, first with the addition "nad Wartą" (at Warta), the page with the addition "Wielkopolski".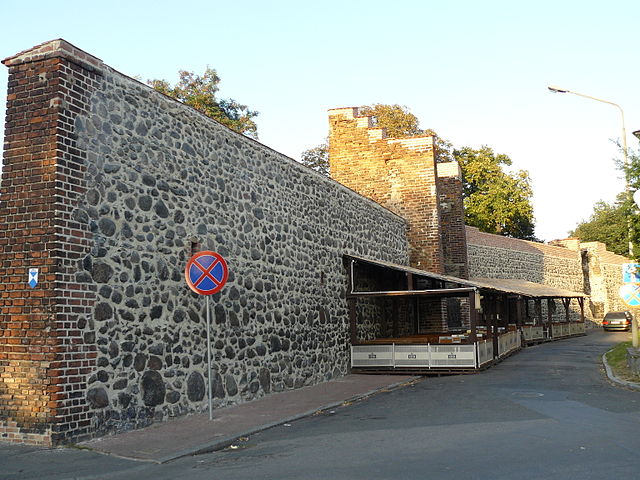 Remains of the medieval city wall around Gorzów Wielkopolski. – Photo by: Micho1987, Mury Obronne Gorzów Wielkopolski, mark as public domain, more details on Wikimedia Commons
Tourist attractions
Selected attractions:
Cathedral, Church of the Virgin Mary
from the end of the 13th century.
Bymuren
The remaining remnants of the medieval city wall from the beginning of the 14th century. The length of the preserved fragment of the wall is 130 meters (including four fortress towers) with an average height of 4.5 m.
grain magazine (Spichlerz)
- a beautiful old building from the 1760s, located on Warta's left river bank.
Bulwar Nadwarciański
(Warta River Boulevard)
The post office
The old post office is protected.
Unfortunately, most of the old town was destroyed during World War II.
Surrounding Area
Gorzów is located in the river valley formed by the great river Warta (the third longest river in the country) and the equally significant river Notec, which has its outlet in Warta a few kilometers east of Gorzów.
Accommodation

Gorzów Wielkopolski – with practical information for tourists
Eating Out:
Gorzów Wielkopolski – with practical information for tourists
Other Internet sites and sources
Translated into English by Google Translate. Spangshus.dk accept no liability for any errors or omissions in translation.