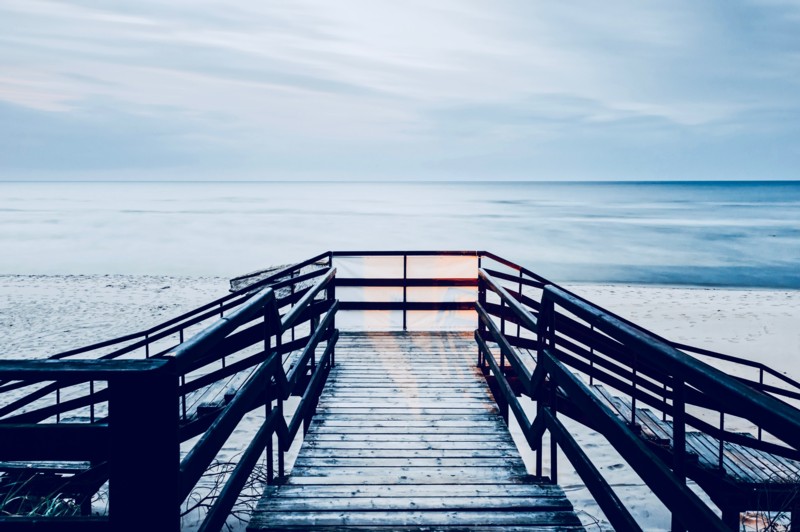 The coast at Dźwirzyno. – Photo by Jacek Dylag on Unsplash
Distance
Lufthaven i Goleniów
86 km,
Location and history
Dźwirzyno is a small fishing village and popular resort on the Baltic Sea coast just west of Kołobrzeg. The place name is known since the 13th century. For centuries, only fishermen lived here. In the 19th century. the tourists began to arrive.
The wide and fine beach is bounded by a ridge of dunes that are overgrown with pine forest. The good bathing conditions on site ensure many guests at the guesthouses in the summer, while visitors can also use the on-site spa or in Kolobrzeg at other times of the year. In Dźwirzyno, in particular, diseases of the respiratory tract and the organs of movement are cured.
A popular route leads tourists to Lake Resko Przymorskie, just south of Dźwirzyno; here it is possible to fish, just as many species of waterfowl can be observed. The lake is connected to the Baltic Sea via a navigable channel. At the fishing port you can buy fresh fish directly from the boats.
There are several guest houses and holiday centers as well as a campsite and some tent campsites.
Accommodation

Dźwirzyno – with practical information for tourists
Other Internet sites and sources
Translated into English by Google Translate. Spangshus.dk accept no liability for any errors or omissions in translation.