Trzebiatów. City Hall
Distance
Population
10.000 (1996)
Location and history
Trzebiatów is an old town on the River Rega in western Pomerania, approx. 10 km from the Baltic Sea.
Archaeologists have shown that there was a fortified settlement here as early as the 9th century. In 1277, the city gained market town rights. From 1365 Trzebiatów was a member of the Hanseatic League. The city had its own port at Rega's mouth in the Baltic Sea and rivaled as a trading town with the nearby Gryfice. The great fires of 1679 and 1747 were devastating for the city, and it never regained its former significance.
Tourist attractions
In the city center, the medieval cityscape is preserved.
City Hall
In the square stands the town hall, which was built in the early 18th century. in Baroque style.
Square
The headboards around the square bear the mark of different styles: Renaissance, Baroque and others.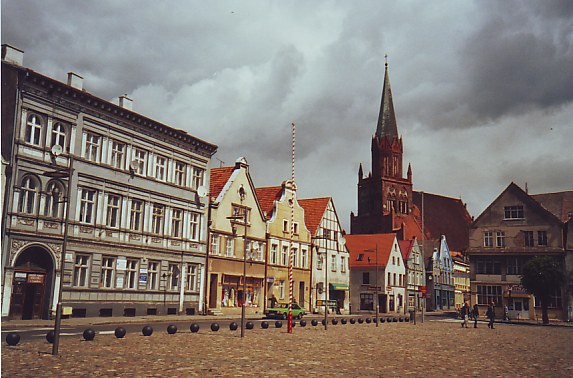 From the square in Trzebiatów. In the background the Church of Mary
Maria Church
North of the square, on Lipowa Street, lies the mighty Mary Church with a 90-meter high tower. In the 14th century, when the church was built, it was, although at a distance of 10 km from the coast, a landmark for passing ships.
Pałac nad Regą
East of the church, at Plac Zjednoczenia, stands "The castle at Rega", now remodeled in neoclassical style. At this site stood a church at the earliest, since a monastery which was rebuilt into a castle in 1690.
Bymuren
The old town is still partly surrounded by a city wall. – In connection with the southern fragment of the fortification is preserved a fortress tower, called the Kaszana Tower.
Surrounding Area
Mrzeżyno
North of the city where the Rega River opens into the Baltic Sea is the small coastal town Mrzeżyno .
Accommodation

Trzebiatów (Official site of the city – here also city and municipal maps) In Polish, English, German.
Other Internet sites and sources
Trzebiatów (Official site of the city – here also city and municipal maps) In Polish, English, German.
Translated into English by Google Translate. Spangshus.dk accept no liability for any errors or omissions in translation.