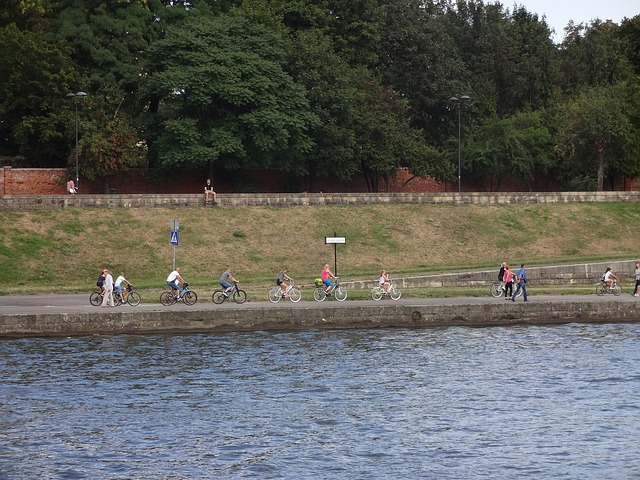 Cyclists in Kraków. – Photo by: Picture of Yasemin Avun from Pixabay
Mountain biking in Bieszczady
Mountain biking for everyone in the scenic Bieszczady region.
Contact (in English):
Krzysztof Plamowski
E-mail: plamowski@onet.pl \
Mountain biking in Pieniny
Suggestions for cycling on marked trails in and near the Pieniny Mountains in southern Poland, quite near the border with Slovakia. The routes, some of which follow the Dunajec River through the mountains, run on both the Polish and the Slovak side of the border.
The Pieniny Mountains and the Spisz region
Bike paths in Pieniny, see Pieniny National Park
Organized tours
MAZURY:
Several companies organize excursions in the Masurian lake landscape, including in the Masurian Natural Park and in Biebrza National Park.
The tours lead the tourist through the large lake area, Mazury or Masuria in northeastern Poland, with around 5000 larger or smaller lakes, a region where large areas are covered by ancient natural forest and which have a unique plant and animal life.
Bialowieza
The Białowieża forest is the only true primeval forest in Europe. The large forest area includes the oldest Polish national park, which is otherwise included at UNESCO's list of the world's natural heritage. Białowieża is not least known for its large stock of European bison.
Tours on your own
Descriptions of bicycle routes
Text in Danish:
The Pieniny Mountains and the Spisz region
Especially:
Bike paths in Pieniny, see Pieniny National Park
There are now numerous tour descriptions in Polish, with descriptions available for several smaller areas: regions, districts, landscapes, powiat'er, parishes and towns.
General remarks
Keep in mind that bicycle paths are a rarity and that cyclists certainly do not have the same priority in traffic as e.g. in Denmark. Motorists are not used to having to look after the cyclists. However, cycling tourism and cycling are generally progressing in Poland. However, it is still advised that as a cyclist you avoid the more busy roads. Also watch out when passing major cities. On the other hand, there are many small roads where you get in close contact with nature, and many nice villages and small towns where traffic is minimal.
Translated into English by Google Translate. Spangshus.dk accept no liability for any errors or omissions in translation.