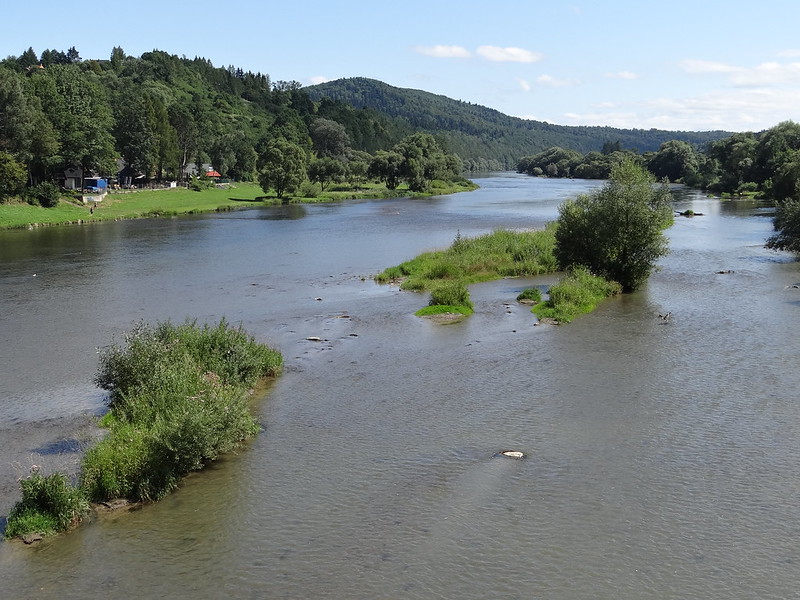 The river San by Lesko seen from the road bridge over the river. – Photo by: Adam Jones on Flickr
Distance
Cisna
36 km S,
Polańczyk
25 km SE,
Population
6.600
Location and history
The trading town of Lesko is located on the right bank of the San River, southeast of Sanok. The town is often called "The gate to Bieszczady".
The first record of the village of Lesko dates from 1436. The town was granted market town approx. 1470. The owner of the area, Piotr Kmita, built a castle here in 1507. The city has been destroyed several times, first by the Swedes in 1704 and later during both World War I and World War II.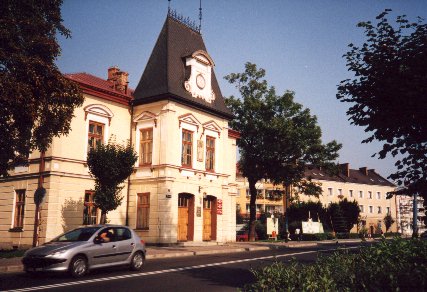 Lesko Town Hall
Tourist attractions
The main attractions are: The castle of Kimita from 1507: a bed-room of Gothic style with changes in the classicist style; The St. Gothic Church of the 16th century; Town Hall of 1896; Synagogue from the transition between the 16th and 17th centuries; An inn from the beginning of the 19th century; Houses from the 18th and 19th century ..
Surrounding area:
On the top and on the southeastern slope of Mount Czulnia (south of Lesko) is a prehistoric burial ground with dozens of burial mounds.
A few miles southeast of Lesko begins Lake Solina and Lake Myczkowce and by extension it Lake Solina and Lake Myczkowce .
Accommodation

Lesko – with practical information for tourists
Eating Out:
Lesko – with practical information for tourists
Other Internet sites and sources
Translated into English by Google Translate. Spangshus.dk accept no liability for any errors or omissions in translation.