The castle of Nowy Wiśnicz – seen from the east
Distance
Population
The small town of Nowy Wiśnicz is approx. 47 km southeast of Krakow and 7 km south of Bochnia in southern Poland. The city was founded in the 13th century. From the 15th century. was the town owned by the Kmita genus, from 1593 by the Lubomirski genus. In 1616, the city gained market town rights.
Painter Juliusz Kossak was born in Nowy Wiśnicz 1824 (died in Kraków 1899).
Tourist attractions
Borgen:
The castle was built in the Gothic style in the 15th century. of the Kmita family. The castle and town were taken over by the genus Lubomirski in 1593. In 1615-21, Stanisław Lubomirski rebuilt the baroque style castle. It thus became both a strong fortress (equipped with fortress towers) and a pompous residence for one of the most influential generals in Poland. Over time, the castle has been damaged or damaged on several occasions. An actual, extensive renovation took place only after World War II.

The castle from the west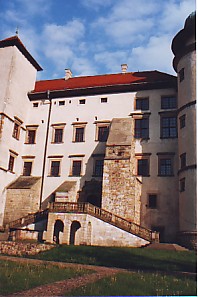 Part of the castle's north wing from the outside. To the right is a section of the round, western corner tower, to the left the square center tower on the wing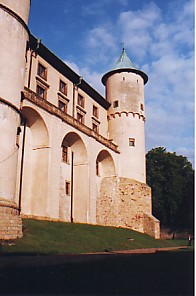 The west wing of the castle (strictly southwest wing)
City Hall:
The town hall in the square dates from 1620.
Karmelitterklostret:
The monastery was founded by Stanisław Lubomirski and built in 1621-35. From the 18th century. served the buildings as a prison.
The parish church :
The parish church dates from 1620, designed by the Italian architect Matteo Trapola.
The museum "Koryznówka" (Museum of Jan Matejko (1838-1893)) :
The museum is a small wooden house from the 19th century, owned by the painter Jan Matejko's family. The painter often visited the house. In 1980, the owner of the house agreed with the cultural management of Nowy Wiśnicz to set up a museum in the building.
Surrounding Area
Stary Wiśnicz (2 km to the northeast):
The Gothic brick church was founded by Piotr Kmita in 1520. A picture of the high altar is partly painted by Jan Matejko. The church bell in bronze dates from 1445.
Accommodation

Nowy Wiśnicz – with practical information for tourists
Eating Out:
Nowy Wiśnicz – with practical information for tourists
Other Internet sites and sources
Translated into English by Google Translate. Spangshus.dk accept no liability for any errors or omissions in translation.