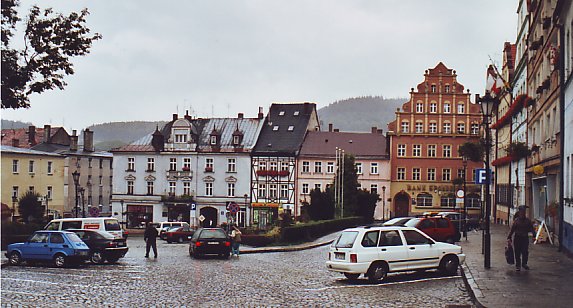 Duszniki Zdrój. Square
Distance
Náchod (Tjekkiet)
21 km V,
Bystrzyca Kłodzka
29 km SE,
Szczytna
5 km E,
Lądek-Zdrój
44 km SE,
Lewin Kłodzki
9 km V,
Population
5.150 (2004)
Location and history
Duszniki Zdrój is one of several spa towns in the southern part of Lower Silesia, near the Czech border (the Kłodzko area). The town is located in the Bystrzyca Dusznicka River valley surrounded by the Góry Bystrzyckie mountain ranges and – predominantly on the Czech side of the border – Hory Orlické. In the municipality is also the winter sports resort Zieleniec.
The town has been mentioned in written sources since 1324. Duszniki Zdrój probably gained market town rights in the first half of the 14th century. The spa in Duszniki Zdrój has been constantly evolving since 1760's.
Tourist attractions
The health resort.
Paper Mill Museum.

Paper Mill Museum. – Photo by: Pudelek, Duszniki – museum, CC BY-SA 3.0
Chopin Mansion .
Chopin Statue.
The colored fountain (in the spa).
Surrounding Area
Zieleniec (about 10 km south of Duszniki Zdroj)
has a health-giving microclimate and is a well-known winter sports resort.
A more comprehensive description of the city of Duszniki Zdrój's history, attractions, etc.
will be posted on this site.
Accommodation

Zieleniec – in Polish, English, German and Czech
Eating Out:
Zieleniec – in Polish, English, German and Czech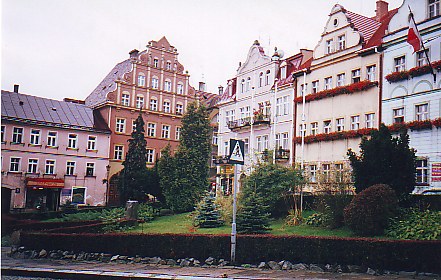 Duszniki Zdrój. Lot from the square
Other Internet sites and sources
Duszniki Zdrój (Town official page)
VisitDuszniki
Zieleniec – in Polish, English, German and Czech
Translated into English by Google Translate. Spangshus.dk accept no liability for any errors or omissions in translation.