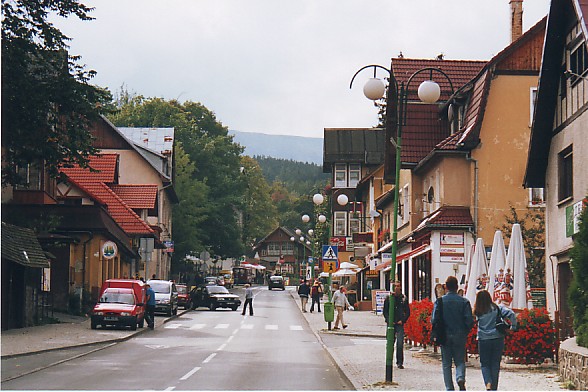 Street view from Karpacz
Distance
Population
5.500 (2003)
Location and history
Karpacz Municipality is a typical mountain municipality located in the Karkonosze Mountains in southwestern Poland (Lower Silesia region), at the foot of the Śnieżka mountain (1602 m). The town itself is located in the wide and steep Łomnica river valley, at an altitude of between 480 and 885 meters. 7 km.
Due to its beautiful location and the special environmental values, Karpacz is an obvious holiday and sports center both summer and winter.

Church of Wang in Karpacz
Tourist attractions
Karpacz is the starting point for many tourist trails in the mountains; the most widely used is the path up the Śnieżka mountain. At the top of the mountain is a Baroque chapel, dedicated to the Holy Wawrzyniec, a hostel and a meteorological observatory.
In winter, Karpacz is primarily a ski resort, but at other times of the year there is also the opportunity to practice many sports, for example: hiking, mountain climbing, cycling, fishing, horseback riding, swimming and bungee jumping.
In Karpacz, of course, one must see the church of Wang, the church of the evangelical congregation. It is old wooden church, built in the 12th century. in Vang in Norway. In 1841 it was purchased by the Prussian king Friedrich Wilhelm IV, dismantled and transported in crates first to Berlin and then to Karpacz, where from 1842 it was rebuilt and consecrated in 1844.
Also worth mentioning is the long toboggan run, the Museum of Sport and Tourism, the Toy Museum and the waterfall Dziki Wodospad.
Accommodation
The area has approx. 11 thousand accommodations spread over private room rentals, hotels, guesthouses, holiday centers, hostels and campsites.
Karpacz – in Polish, English, German and Czech – with the possibility of downloading brochures for tourists
links
Karpacz – in Polish, English, German and Czech
Translated into English by Google Translate. Spangshus.dk accept no liability for any errors or omissions in translation.