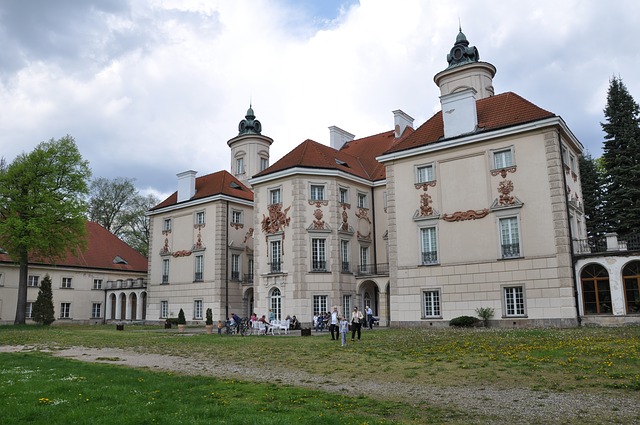 The Bieliński mansion in Otwock Wielki immediately south of the southernmost suburb of Otwock. – Picture of jarko7 from Pixabay
Distance
Sulejówek
21 km N,
Garwolin
40 km SE,
Józefów
5 km NV,
Population
45.044 (2014)
Location and history
Otwock is located southeast of the capital Warsaw, now as a suburb, part of the built-up metropolitan area, on the east bank of the Wisła River and east of its tributary iderwider.
Otwock stayed at the end of the 19th century. known as sanatorium and spa town. The city gained market town rights in 1916. In the spa town, Józef Piłsudski stayed at one point. This is also true of the author Władysław Reymont, who wrote his famous novel here: "Chłopi" ("The farmers").
During World War II, the Germans created a Jewish ghetto here. In 1942, the surviving Jews were transported to the extermination camp of Treblinka, where they were murdered. After the war, the city's population had dropped from about 20,000 to about 12,000.
In 1958, the first Polish nuclear reactor called EWA was built in the district of Świerk. to this came later reactor no.2. In 1995 a decision was made to shut down the EWA reactor and dismantling began in 1997.
Its status as a health resort lost the city in 1967.
Tourist attractions
Selected attractions:
regional Gallery (Muzeum Ziemi Otwockiej).
The Bieliński mansion in Otwock Wielki just south of Otwock
Surrounding Area
rivers:
To the west, Poland's largest river, Wisła, and its right tributary, Świder. The water in the latter has been somewhat polluted in the past, but is now clean.
Landscape Parks:
Immediately southeast of the city is Mazowiecki Park Krajobrazowy.
Accommodation
Other accommodation links:
Other Internet sites and sources
Translated into English by Google Translate. Spangshus.dk accept no liability for any errors or omissions in translation.