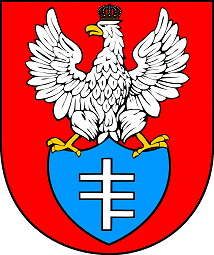 Legionowo's city arms. – Photo by: Public Domain, link
(Short edition)
Distance
Kobyłka
23 km SE,
Radzymin
23 km NE,
Konstancin-Jeziorna
42 km SE,
Tłuszcz
46 km NE,
Błonie
47 km SV,
Łomianki
26 km SV,
Wyszogród
68 km SV,
Grójec
67 km S,
Mszczonów
72 km SV,
Zakroczym
27 km NV,
Population
50.549 (2010)
Location and history
Legionowo is located immediately – 23 km – northwest of the capital Warsaw's center. A few kilometers southwest of the city, the great river Wisła runs in a westerly direction.
The town's history dates back to 1877 when a railway station named Jabłonna was erected here – renamed Legionowo in 1934. In 1880'they created a smaller summer residence near the station. Alongside the railway and the summer residence, the Russian garrison barracks contributed significantly to the subsequent urbanization. The barracks buildings were erected between 1892 and 1899. Added to the development of the next town was another Jabłonna Glassworks, which emerged in 1897, where beer bottles were primarily manufactured.
During the period between World War I and World War II, the population grew significantly and in 1939 the number had increased to over 8,000. After World War II, in 1946, there were over 9,000 inhabitants. In 1952, the city was granted market town rights. In 1987, the population exceeded 50,000.
Legionowo has friendships with cities in Russia, Ukraine, Bulgaria and China.
Tourist attractions
Selected attractions:
The most interesting and oldest building monuments include:
Villa and Park complex "Kozłówka" at Smerek Street
which consists of the stone and wood-built villa built in 1885, surrounded by a landscape park.
Legionowo's first town hall / City Museum
Legionowo's first town hall was furnished in a villa by Mickiewicz'street no.23. This building is today the seat of Legionowo's City Museum.
The barracks
The complex of barracks housing the former Russian garrison erected in red brick in 1897.
Surrounding Area
A few kilometers southwest of the city is the Wisła River. Ca. 7 km to the northeast is Lake Zegrze (Jezioro Zegrzyńskie), a popular destination for Warsaw residents and the surrounding area.
Accommodation
Other Internet sites and sources
Translated into English by Google Translate. Spangshus.dk accept no liability for any errors or omissions in translation.