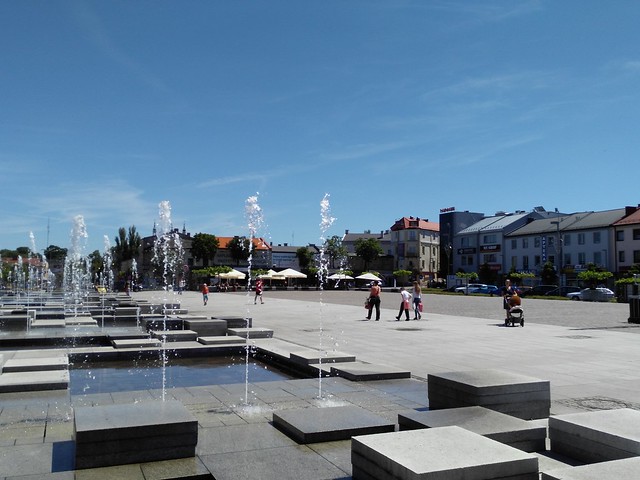 The square in Tomaszów Mazowiecki. – Photo by: WrS.tm.pl on Flickr
Distance
Końskie
58 km SE,
Population
65.818 (2010)
Location and history
Tomaszów Mazowiecki is located in central Poland, southeast of the Łódź metropolis, on the Pilica River.
The city lies on the border between two historical regions, the land on the left of Pilica historically being Mazowsze (of which the city's nickname), while the land on the right of the river is historically Małopolska.
The city emerged at the end of the 18th century. and the beginning of the 19th century. in connection with the industrial revolution and the construction of ironworks as well as the development of the textile industry in the area. Commercial rights gained the town in 1830.
Tourist attractions
The Evangelical Trinity Church (1823-29)
Ostrowski Mansion (1812)
City Hall (1927)
Knothe Mansion (1820s / 1896)
Surrounding Area
Sulejów Lake
To the south there are only approx. 4 km to the north bank of the large Sulejów lake. The lake is an artificial water reservoir, built in 1969-1974 on the river Pilica, which runs through the lake from south to north. Pilica is the longest left tributary to Wisła.
Accommodation

Tomaszów Mazowiecki – with practical information for tourists
Eating Out:
Tomaszów Mazowiecki – with practical information for tourists
Other Internet sites and sources
Translated into English by Google Translate. Spangshus.dk accept no liability for any errors or omissions in translation.