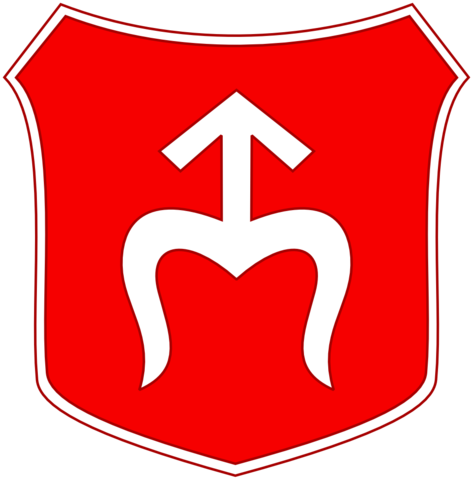 Opoczno's city arms. Photo by: anonymous, Herb Opoczna, mark as public domain, more details on Wikimedia Commons
Distance
Grójec
78 km NE,
Końskie
24 km SE,
Population
21.901 (2015)
Location and history
Opoczno is located in central Poland, southeast of the metropolis of Łódź. Today, the city is located in Łódź county, but historically it belongs to the Małopolska region.
In 1191 is mentioned a church on the site, consecrated to St. Magdalene. In 1284, Opoczno is mentioned in connection with the transfer of the buildings to the Collegiate Church in Sandomierz. In 1365, the city was granted commercial property rights by King Kazimierz the Great. In 1550, Opoczno got its own water supply. At the partition of Poland in 1795, the city came under Austria. From 1815, however, Opoczno belonged to Russia. In 1880, ceramic tile production began. The manufacture of tiles has continued ever since and today is done in one company: Opocno SA, the largest manufacturer of ceramic tiles in Poland. During the German occupation in World War II, a Jewish ghetto was established in Opoczno. The city became the center of the newly created Opoczno district in 1999.
Tourist attractions
Selected attractions:
The castle of Opoczno
The present building dates from the 19th century, erected on the site of the castle from the 14th century. The original castle was probably built with the city wall and was the residence of the royal bailiff. The castle was severely damaged in the 16th and 16th centuries. After 1874, a building was erected on the foundation of the castle, which, after a renaissance in 1927 in the Renaissance style, is today the seat of the district authorities.
Sankt Bartłomiej's Collegiate Church
from approx.1365 in Gothic style.
Surrounding Area
The river Drzewiczka runs (from south to north) through the eastern outskirts of the city. The river, which has its name after the town of Drzewica to the northeast, is a right tributary to Pilica. Fishing is possible in Drzewiczka and there is a fishing district for this section of the river.
Accommodation
Other Internet sites and sources
Translated into English by Google Translate. Spangshus.dk accept no liability for any errors or omissions in translation.