View of Tymbark from Highway 28 to the northeast
Distance
Location and history
Tymbark is a small town in Małopolska, about 10 km west of Limanowa. The town is beautifully surrounded by forests and mountains – the central part of the Beskid Wyspowy mountain range. Through the municipality the main road goes from Wadowice to Nowy Sącz.
The church parish of Tymbark was founded in 1349, when the first parish church was also built. The place was then known by the name Jodłowa Góra.
The city is clean, neat and well maintained, but the main reason for the place name being known throughout Poland is the large local business, "Tymbark SA"that primarily produces fruit juices, but also fruit wines, jams and jams. In any corner of Poland you can buy fruit juice cartons from Tymbark. In addition to this company, the municipality also has a large organic dairy and wood processing companies.
The appealing touch of the city and its surroundings with mountains and rivers is a good background for a relaxing holiday. Accommodation in the municipality itself is mainly farm holidays (agrotourism).

From the southern driveway to Tymbark
Tourist attractions
The parish church from 1824.
Myszkowski Chapel from 1875.
War cemetery from World War I.
Old manor house – an example of manor architecture in the 17th century.
Mill Building in Podłopień from the 1830s.
The municipal administration building in Tymbark listed 1907.

Tymbark City Hall
Accommodation

Gmina Tymbark – with practical information for tourists
Eating Out:
Gmina Tymbark _ with practical information for tourists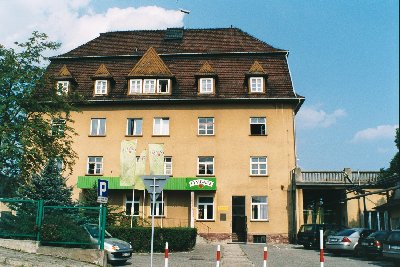 The administration building of the company Tymbark SA
Other Internet sites and sources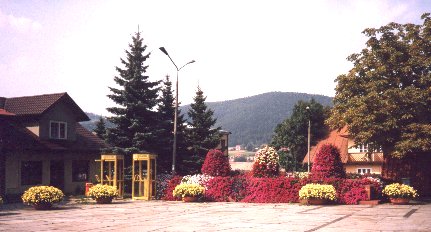 Translated into English by Google Translate. Spangshus.dk accept no liability for any errors or omissions in translation.