(Short edition)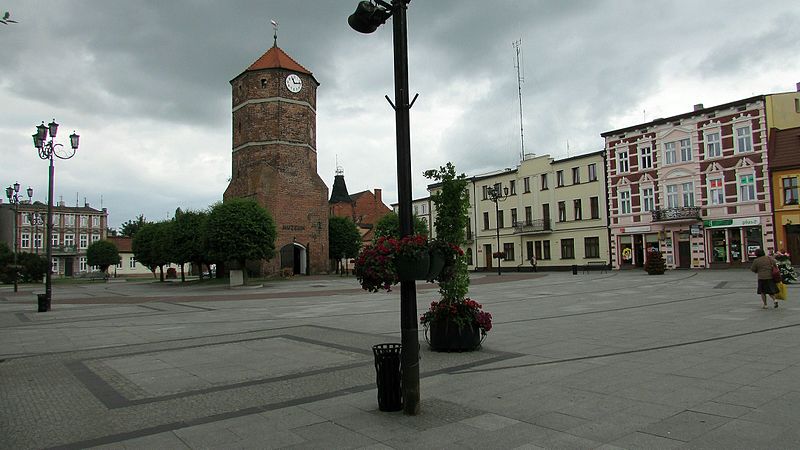 The square in Żnin with the old town hall tower
Distance
Chodzież
69 km NV,
Mogilno
34 km SE,
Nakło nad Notecią
47 km NV,
Strzelno
50 km SE,
Population
14.174 (2013)
Location and history
The town of innin is located in the Kuyavian-Pomeranian region, southwest of Bydgoszcz, in the Gniezno Lake landscape.
The beginning of the later city was created in the early 11th century. and consisted of three elements: a fortification; artisan houses as well as a cult site. The oldest document that directly mentions innin dates from 1136, at which time the city was owned by the Catholic Church. In 1263, the city was granted commercial property rights, granted by Archbishop Janusz. Around 1343, the construction of a city wall, including city gates, began; in addition, the city was protected to the west and north by a double moat. From the beginning of the 17th century. began a downturn for the city caused mainly by plague and war actions (the war with Sweden). At Poland's first division in 1772, Żnin came under Prussian rule. In 1893 a sugar factory was erected, which for a long time was the most important business in the city. After World War II, among other things, a machine factory and the residential areas were greatly expanded.
Tourist attractions
Selected attractions:
Church of Saint Florian
in Gothic-Baroque style originally from the beginning of the 15th century.
Town Hall Tower
The old Gothic town hall tower in the square (15th century).
Church of the Virgin Mary
in neo-Gothic style from 1909.
St. Martin's Church
in early Gothic in the suburb of Góra,
the bishop (1795)
in classicist style.
Surrounding Area
The city is surrounded by lakes, especially to the north and south, but also to the east and southwest there are only a few kilometers to lake areas. Immediately north of the urban area is Great Żnin Lake and just south of Little Lillenin Lake.
Biskupin
Ca. 7 km to the south, near the village of Biskupin by the lake of the same name, is a class 1 tourist attraction, namely a reconstructed settlement from the end of the Bronze Age / early Iron Age. On the basis of a study of the structural elements of wood (beams, etc.) that have been found, it is assumed that the settlement is founded around 700 years BCE.
Accommodation
Other Internet sites and sources
Translated into English by Google Translate. Spangshus.dk accept no liability for any errors or omissions in translation.