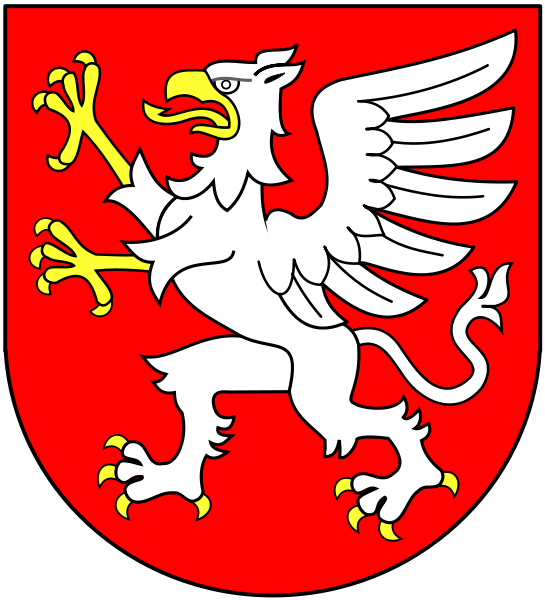 Dębica's city arms. – Photo by: Bastianow (Bastian), POL Dębica N COA, CC BY-SA 4.0
Distance
Ropczyce
17 km E,
Population
46.568 (2015)
Location and history
Dębica is located in Podkarpacie County on the river Wisłoka, a tributary to Wisła.
The first historical document mentioning a settlement on the site dates from 1293. The town was granted commercial property rights in 1358 by permission of King Kazimierz the Great.
From 1772 the city was under Austrian rule.
Between 1936 and 1939 a car tire factory emerged. Therefore, the city is known throughout Poland as well as in other countries, with all the tires bearing the name of the company, which is also the name of the city: Dębica . From 1995, the company behind the factory is part of the Goodyear group.
After the German occupation in World War II, 40% of Dębica was destroyed. In 1999, Dębica became a district town in the newly created Podkarpacie County.
Today, Dębica is one of the most important industrial centers in southeastern Poland.
The composer Krzysztof Penderecki was born in Dębica in 1933.
Tourist attractions
St. Jadwiga's Church
- parish church, originally built in the 16th century, later rebuilds.
manor house
partly in the district of Wolica and partly in Latoszyn southwest of the city.
Surrounding Area
Accommodation

Dębica – with practical information for tourists
Eating Out:
Dębica – with practical information for tourists
Other Internet sites and sources
Translated into English by Google Translate. Spangshus.dk accept no liability for any errors or omissions in translation.