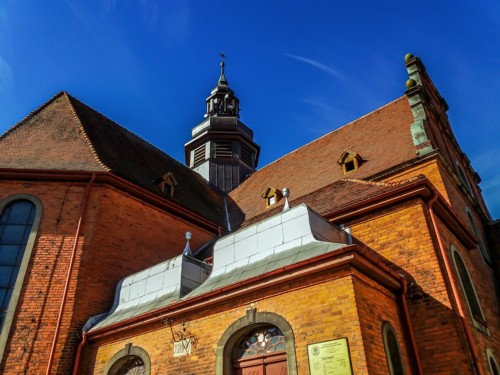 Trinity Church in Kościerzyna. – Picture of Pawel Pacholec from Pixabay
Distance
Miastko
78 km SV,
Population
23.765 (2011)
Location and history
The town of Kościerzyna is located in the Kaszubian area of northern Poland. Kaszubia is not an area defined by administrative boundaries, but by the language used by the people. It is estimated that the number of people who speak Kashubian to a greater or lesser extent is approx. 108,000. Linguists dispute whether Kashubian is an independent language or a Polish dialect. Surely, however, it is a regional language that belongs to the West Slavic (or Lehkite) language group and which is influenced by Polish as well as the extinct languages: Polabic (Slavic) and Prussian (Baltic). The Kashubian term for Kościerzyna is Kòscérzna.
The city is located in the southern part of the Caszubian lake landscape and is surrounded by lakes on all sides.
Kościerzyna emerged at the end of the 13th century, referred to in early documents as Costerina, and the city gained market town rights in 1398. In the middle of the 15th year. there were about 300 inhabitants in the city. These involved agriculture and crafts, beer brewing, etc. From the middle of the 19th century. the city became an important center for the fight for Polishness in Kaszuby. At the beginning of World War II, the city was incorporated into the Third Reich and many inhabitants were murdered. When the Red Army entered the Kościerzyna at the end of the war, the Soviet soldiers mistakenly regarded the Germans as Germans and then treated them. The town had a long tradition of making mead. This production resumed after the war on an even larger scale.
Tourist attractions
Selected attractions:
Trinity Church
This parish church was built in 1914-1917 in neobaroc style. In the church is a picture called Godmother of Kościerzyna, painted in 1616 as a copy of a work from the 9th century.
See photo at the top of the page.
The Lord's Resurrection Church
built in 1892-1894 in neo-Gothic style.
Surrounding Area
seascape
Of the many lakes surrounding the city, mention (among many others) here: to the north: Lake Gałęźne (with a beach); to the northeast: Lake Dobrogoszcz (3 km from Kościerzyna); to the south: Lake Wierzysko; to the southwest: Lake Osuszyno (with many tourist facilities); to the west: Lake Garczyn (several tourist facilities).
Accommodation

Kościerzyna – with practical information for tourists
Eating Out:
Kościerzyna – with practical information for tourists
Other Internet sites and sources
Translated into English by Google Translate. Spangshus.dk accept no liability for any errors or omissions in translation.