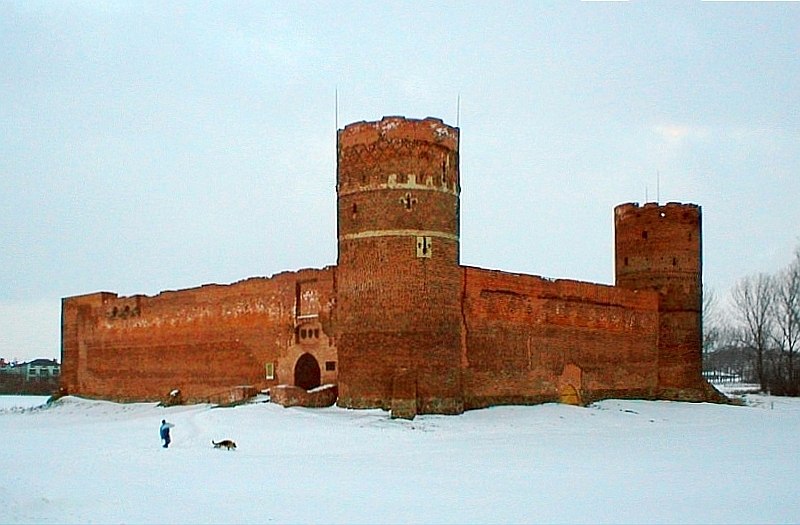 The ruins of the Masovian Principal's Castle in Ciechanów. – Photo by: anonymous, Ciechanow zamek 2, CC BY-SA 3.0
Distance
Maków Mazowiecki
38 km E,
Przasnysz
26 km NE,
Sierpc
74 km V,
Population
44.585 (2014)
Location and history
Ciechanów is located in the Mazowsze region, where Warsaw is the main city. The city is flooded by the river Łydynia.
Remains of earth and stone walls around a fortified settlement date to the 10th-11th century. In the early Middle Ages, the city was repeatedly attacked by tribes from the north, including Prussians and Lithuanians. Ciechanów probably got market town rights in the middle of the 14th century, which was confirmed in the year 1400 by Prince Janusz I. The walled castle at the town dates from the middle of the 14th century. and was built on the site of a former tree-built fortress.
The German occupation in World War II brought great human suffering and loss.
Tourist attractions
The Castle of the Masovian Princes
The walled fortress was built around 1370 to guard the river crossing and at the same time as a refuge for the inhabitants in case of alien tribes attacks. Preserved to this day is the rectangular outer wall with a height of 9.8 meters as well as 2 corner towers: the southeast (prison tower) and the western tower, called the arsenal. In the world of literature, the following authors have visited the castle and made it famous: Zygmunt Krasiński, Stefan Żeromski, Bolesław Prus, Henryk Sienkiewicz and Maria Konopnicka.
City Hall
The neo-Gothic town hall on the north side of the square was built in 1844 by drawings by Italian-Polish architect Enrico Marconi.
The parish church
The Church of St. Joseph was erected in the late Gothic style in the second half of the 14th century. Destruction has necessitated several renovations over time.
The former monastery church
The Gothic building was erected in the middle of the 14th century. along with the Abbey of Augustine.
Belfry Sport
At the entrance to the former Augustinian church stands a bell tower in the form of a neo-Gothic gatehouse with 3 pointed arched doorways. The gate was built in the second half of the 19th century.
Surrounding Area
Accommodation
Other Internet sites and sources
Ciechanów – in Polish, English and German
Translated into English by Google Translate. Spangshus.dk accept no liability for any errors or omissions in translation.