The coast and the pier at Międzyzdroje. – Picture of Photo Mix from Pixabay
Distance
Location and history
Międzyzdroje is a bathing and spa resort with a 150-year tradition. The town lies between high cliffs and a wide sandy beach facing the sea on one side and the forests of the Wolin National Park on the other. Holiday centers and hotels scattered in the shade of the trees, the beautiful architecture of the promenade, the 300 meter long pier and the harbor where the fishing tradition is maintained (the town has been a fishing village since the 13th century) – all this together constitutes a significant tourist attraction. .
Attractions in and near Międzyzdroje: Wolin National Park, Bison Reserve, Natural History Museum, Cliff Coast, Zielonka Hill (with a beautiful panoramic view) and the pearl of the national park: Lake Turkis (Jezioro Turkusowe). There are 270 species of wildlife in the park, including several sea eagles; this bird is also the symbol of the national park.
In the summer, a festival for choir singing (since 1965) and film festival (since 1997) is held in Międzyzdroje. Each year, while the film festival is on, new Polish filmmakers and filmmakers put their handprints on the sidewalk along Promenada Gwiazd (Star Promenade).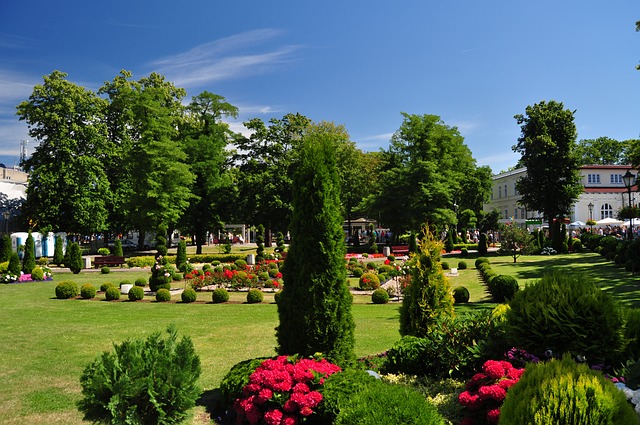 The park in Międzyzdroje. – Picture of Kamyq from Pixabay
Accommodation

Międzyzdroje (City official page) – With practical information for tourists
Other Internet sites and sources
Międzyzdroje (Town official page)
Translated into English by Google Translate. Spangshus.dk accept no liability for any errors or omissions in translation.