From the center of Grajewo. – Photo by: anonymous, Grajewo center, mark as public domain, more details on Wikimedia Commons
Distance
Orzysz
51 km NV,
Population
22.413 (2012)
Location and history
The town of Grajewo is located in northeastern Poland, in the northern part of the Podlasie region. The national park Biebrzański Park Narodowy is a short distance to the east. The name of the town comes from Jotvingian "greva" ("overcast lake"), as the Baltic tribe, the Jot Wings, previously resided in this area.
The first mention of the village of Graywa, as it was then called, dates from 1426. In 1478 funds were raised for the building of a parish church. In 1540 the town was granted commercial property rights, granted by the king, Zygmunt the Old. At the end of the 17th century. Grajewo was given the right to hold markets. After World War II, when the city was occupied by the Germans and many people were executed, the urban area was expanded with the surrounding villages. In 1970'some major industrial companies were located in the city, including companies in the timber industry and dairy operations. As a result of the influx of new residents, several new residential areas were built.
One of the largest companies in Grajewo today is Pfleiderer Grajewo SA, a timber-industrial factory which, among other things. manufactures particleboard, laminate boards and furniture elements.
Tourist attractions
Church of the Holy Trinity
Built in 1879-82 in neo-Gothic style, the bell tower dates from 1837.
Surrounding Area
The river Ełk runs past the city's eastern edge – in a north-south direction.
Grajewo is a good starting point for an excursion to the Biebrzański Park Narodowy National Park, which begins a few miles east of the city.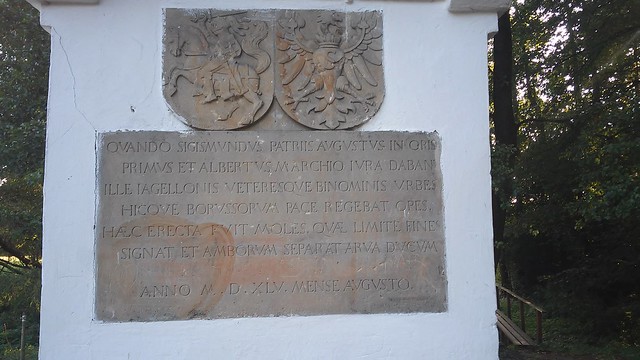 Memorial plaque for defining the boundaries between the Duchy of Prussia, Poland and Lithuania in 1545. – Photo by: Media Wnet on Flickr
Bogusze
In the village of Bogusze north of Grajewo there is a memorial plaque with a memorial plaque which recalls that at this place a border pole was erected in connection with the determination of the boundaries between the Duchy of Prussia, Poland and Lithuania, which boundaries just clashed here in the village .
Accommodation
Other Internet sites and sources
Grajewo – (The official site of the city is available in versions in a total of 103 languages !!!. That is, all European languages (including English, German, French and all the Nordic languages) as well as many African and Asian languages).
Translated into English by Google Translate. Spangshus.dk accept no liability for any errors or omissions in translation.