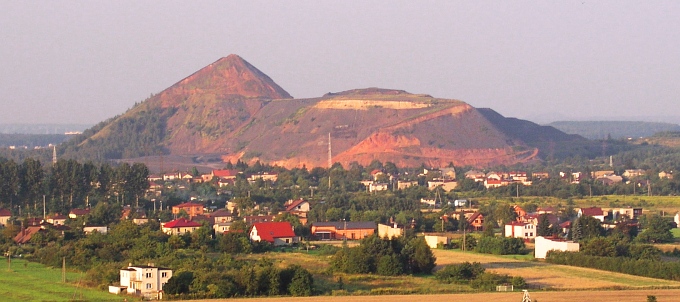 Slag Mountains at Rydułtowy, formed as a result of mining. The mountain that has been named "Szarlota", is 134 m high. – Photo by: Utoplec, Keep w rydultowach, CC BY-SA 3.0
Distance
Pszów
3 km SV,
Population
21.928 (2012)
Location and history
Rydułtowy is located in southern Poland, in Upper Silesia, southwest of Katowice.
The subsoil beneath the area where the city is located contains rich deposits from the carbon period. Rydułtowy is therefore the center of significant coal extraction. In addition, gravel and clay are also extracted. The majority of the inhabitants are employed by the coal mine Rydułtowy-Anna or one of the service companies operated by the mine.
The slightly special name of the settlement goes back to the man's name Rudolf, probably the name of the first owner of the then village.
By merging several villages, Rydułtowy became an independent municipality in 1926. In 1951, the city was granted commercial property rights, which were deprived of the city in 1975 due to a new administrative division. In 1992, the city gained new rights as a market town.
Rydułtowy has friendship cities in Denmark, the Czech Republic and Germany. With Hvidovre in Denmark, Rydułtowy has been a friendship town since 1995.
Surrounding Area
To the south there are only a few kilometers to the Czech border. To the north extends the large forest area of Lasy Raciborskie.
Accommodation
Other Internet sites and sources
Translated into English by Google Translate. Spangshus.dk accept no liability for any errors or omissions in translation.