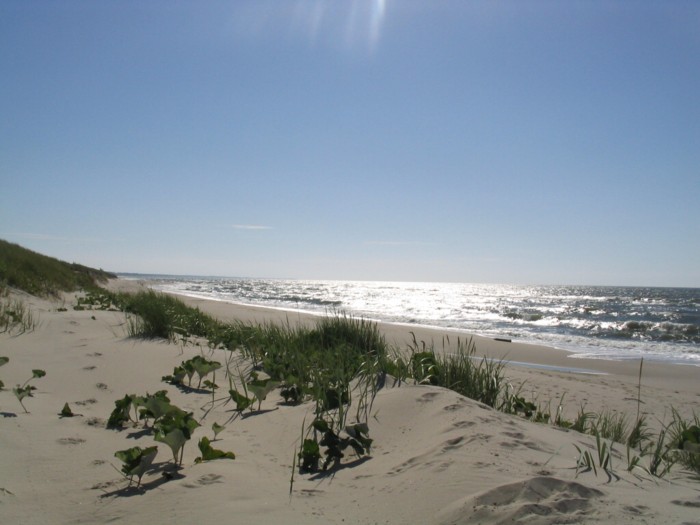 The coast near Mielno. – Photo: Andrzej Stańczak
Distance
Location and history
The first mention of the place name is dated 1288, but the remains of a Slavic settlement dating from the 10th century are preserved. At first Mielno was just a fishing village, later a harbor was built for merchant ships. Around the middle of the 19th century. the first summer guests started coming here and slowly Mielno developed into an elegant holiday town.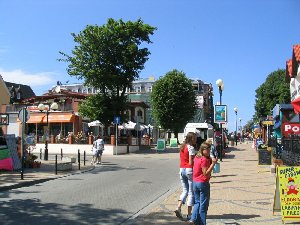 Mielno, at the drop to the beach.
Photo: Andrzej Stańczak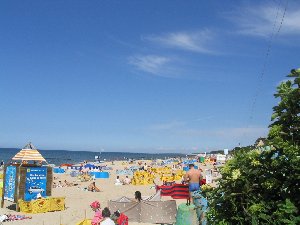 The beach at Mielno.
Photo: Andrzej Stańczak
Mielno is located on the land strip that separates Lake Jamno and the Baltic Sea. Between the town and the wide sandy beach lies a belt of low, lightly overgrown dunes. Parallel to the beach is the Promenada Przyjaźni (Friendship Promenade), which was built at the beginning of the last century to strengthen the coastline.
There are common. bus service to the city and city bus from Koszalin (only 12 km away). Both the sea and the nearby Jamno lake (22 km2) offer magnificent opportunities for swimming and water sports. A channel (Jamno channel) connects Lake Jamno with the Baltic Sea.
There is a sanatorium.
The city is the administrative center of the municipality of Mielno. Other smaller localities of the municipality of tourist interest (all close to the coast) are: Unieście (see below), Sarbinowo , Łazy, Chłopy, Gąski and Mielenko.
Uniescie:
The village of Unieście (about 3 km east of Mielno) was formerly a fishing village, now a bathing and holiday resort. The two adjacent cities form a complex of interconnected urban communities.
Accommodation

Guest houses from the end of the 19th century. and the beginning of the 20th century is still in the city center. There is also a park. Several guesthouses and many private villas in the city are beautifully and imaginatively done. In addition to guest houses, there is an extensive private room rental. Campsite and tent site are available – as well as hostels (in season).
Mielno (Official site of the city; here also city map). In Polish, English and German
Other Internet sites and sources
Mielno (Official site of the city; here also city map). In Polish, English and German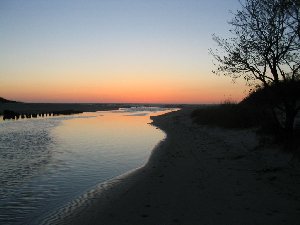 By the Jamno Canal. – Photo: Andrzej Stańczak
Photos on this site are taken by permission of Andrzej Stańczak, Mielno.
Translated into English by Google Translate. Spangshus.dk accept no liability for any errors or omissions in translation.