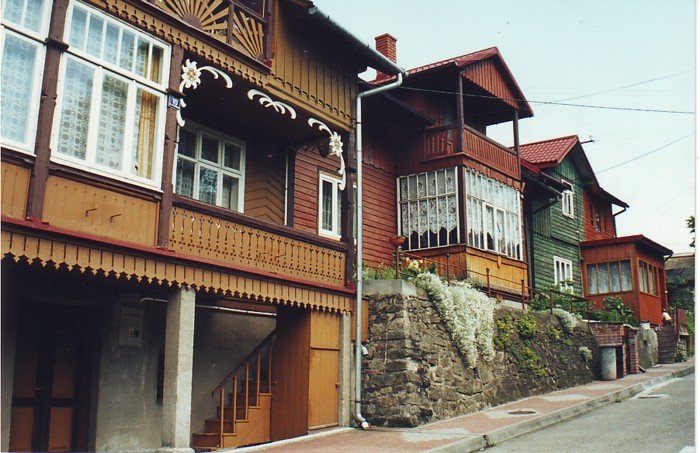 Wooden houses in Piwniczna
Distance
Population
Piwniczna Zdrój is located in southern Małopolska, south of Nowy Sącz and close to the Slovak border. The town is idyllically located in the Poprad Valley, where the river meanders through Poprad Nature Park, and is surrounded on all sides by the Beskid Sądecki mountain range. Some of the mountain peaks in the city area reach over 1000 m.
The city's founder was King Kazimierz the Great, who in 1348 ordered the construction of a city on both sides of the river Poprad, in a place called Piwniczna Szyja (Basement Neck) due to the narrowing of the river valley here. The purpose of the founding was to increase the revenue of the Kingdom by building settlements and towns along the trade route from Kraków over Nowy Sącz to Hungary. However, the location of the city on the wild mountain river, over time, caused many accidents in the form of floods, especially 3 major floods in the 17th century. and the most recent in 1934, 1958 and 1997. But otherwise, the royal privileges enjoyed by the city ensured a dynamic development in the city. From the beginning of the 20th century. Piwiniczna became a well-known holiday destination and later spa resort. Guest houses and baths were built and entertainment was arranged for the guests.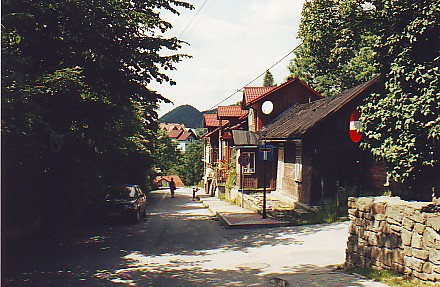 Street in Piwniczna Zdrój
Tourist attractions
Kurpark
with one "Pijalnia", where you can drink mineral spring water.
Boating through the Poprad Valley.
Tourists are offered sailing on the Poprad mountain river, which on a long stretch is the border between Poland and Slovakia. The voyage takes place in safe boats that are controlled by two rafters. Sailing takes place on the stretch from Piwniczna and north to Rytro, approx. 10 km.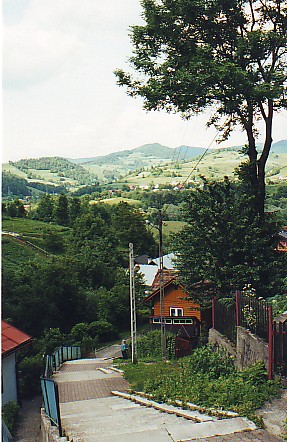 Steep stairway in Piwniczna
Surrounding Area
The beautiful mountainous landscape, the climate, the healing mineral spring water and the clean air are among the area's most important values.
A short distance to the south is the border crossing to Slovakia at Mniszek, from which you can go on an excursion in the Slovak mountains.
Hiking, cycling and horse riding :
In summer, hiking and biking on marked mountain routes are recommended. There is also a riding center.
Skiing :
In winter you can ski, as there are 2 ski centers with a total of 15 ski lifts in a short distance from the city (in Sucha Dolina and Wierchomla).

View from Piwniczna towards the mountains
Accommodation

Miasto i gmina Piwniczna Zdrój – with practical information for tourists
Eating Out:
Miasto i gmina Piwniczna Zdrój – with practical information for tourists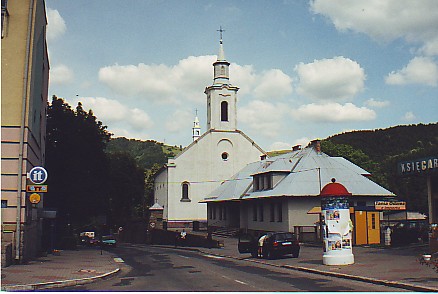 The church in Piwniczna seen from the square
Other Internet sites and sources
Miasto i gmina Piwniczna Zdrój
Translated into English by Google Translate. Spangshus.dk accept no liability for any errors or omissions in translation.