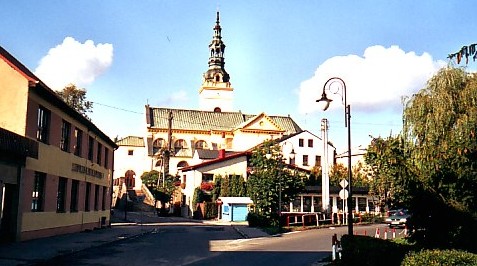 St. Martin's Church in Kłobuck
Distance
Population
13.200 (2007)
Location and history
The town of Kłobuck is located in the northern part of Upper Silesia, 16 km northwest of the larger city of Częstochowa. Kłobuck is a mixed urban and rural municipality and is also a city center in the district of the same name.
The town's history goes back to the early Middle Ages. It is not known for certain when Kłobuck was granted commercial property rights, but it is probably around 1339. In 1454 Jan Długosz founded a monastery in Kłobuck. A great fire in 1469 destroyed large parts of the city. After the Swedish attacks on Poland, the city fell into disrepair. In 1689 it burned down almost completely. In 1870, Kłobuck lost his rights as a market town, but regained those rights in 1917. Only after World War II did more substantial economic growth occur in the city.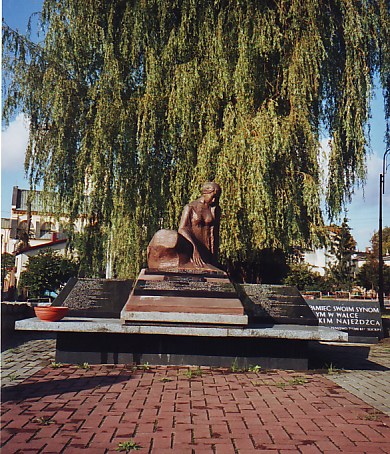 Statue and list of names commemorating those who fell in the battle against Hitler's invasion forces
Tourist attractions
Selected attractions:
St. Martin's Church (Kościół św.Marcina)
The city's parish church, founded by Piotr Dunin, has changed a lot over time. It still appears in Gothic style, but with Baroque building elements. Interesting are the cross vaults in the choir, the choir chairs and the pulpit.
The rectory – former monastery
The rectory (Plebania) is a former monastery founded by Jan Długosz. The building was renovated in the 19th and 20th centuries.
The castle of Zagórze
The castle in Zagórze immediately north of the urban area was built in 1795-1800 by Christian von Haugwitz as an imitation of his residence in Berlin. The castle, which was surrounded by a large garden, had various owners over time until after World War I it became state ownership.
Surrounding Area
Accommodation
Other Internet sites and sources
Translated into English by Google Translate. Spangshus.dk accept no liability for any errors or omissions in translation.