(Short edition)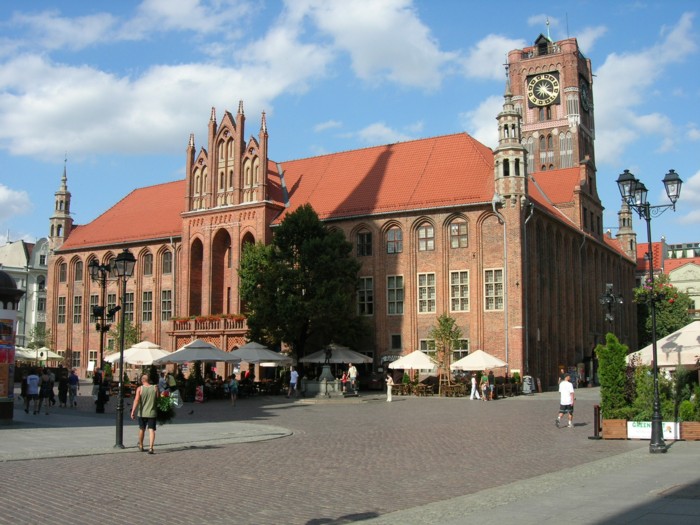 Toruń. City Hall (Photo: Jakob Hoffmann)
Distance
Solec Kujawski
33 km NV,
Wąbrzeźno
44 km NE,
Chełmża
21 km N,
Gniewkowo
22 km SV,
Population
199.711 (2005)
Location and history
Toruń is located in the Kuyavian-Pomeranian county, on the Wisła River. The city is centrally located in the north of Poland, about halfway between Szczecin to the northwest and Warsaw to the southeast. The city is one of the two administrative centers in the Kuyavian-Pomeranian county; the other center city is Bydgoszcz.
Toruń is one of the oldest cities in Poland. From the 9th year there was in this place a fortified Slavic settlement. The origins of the present city are related to the Order of the Crusader, who settled in the area around 1230 during their battles with Prussian tribes. The city's founding document is dated December 28, 1233.
The town's name is associated with the name Nicolaus Copernicus (Polish: Mikołaj Kopernik), the famous Polish astronomer (born 1473 in Toruń, died 1543 in Frombork).

Brama Klasztorna (Monastery Gate) in Toruń. – Photo: Jakob Hoffmann
Tourist attractions
The Old Town of Toruń is one of the most valuable collections of building monuments in Poland and as such was included on The World Heritage List under UNESCO in 1997.
Selected attractions:
John the Evangelist and John the Baptist's Cathedral – Gothic Hall Church from the 14th century.
Virgin Mary's Church of the Assumption – a former Franciscan church built in the 14th century.
St. James's Church – a basilica from the beginning of the 14th century.
City Hall – the city's old town hall, construction begun in 1274, expanded and remodeled 1391-99, one of the most monumental town hall buildings in Central Europe.
Bymuren – the remains of the medieval fortifications around the city, significant parts of the wall, built from the middle of the 13th century, three city gates and several brick towers.
Borgen – the ruins of the Crusader Castle.
Copernicus house – from the 15th century, now a museum.
Copernicus Memorial (Copernik)
grain Stores (warehouses) – from the 14th to the 18th century, including the best preserved Gothic grain magazine in Poland.
The House Under the Star – originally Gothic, from the 15th century, with stucco façade from 1697 and wooden spiral stairs.
Brama Klasztorna – also called Holy Spirit Gate, is one of the three medieval city gates preserved to this day.
Surrounding Area
Accommodation

Toruń (City page in Polish and English)
Other Internet sites and sources
Toruń (City page in Polish and English)
Translated into English by Google Translate. Spangshus.dk accept no liability for any errors or omissions in translation.