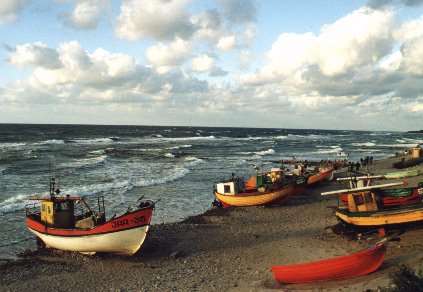 Distance
Sławno
27 km SE,
Ustka
30 km E,
Location and history
The bathing resort and fishing village Jarosławiec is located on the Baltic Sea coast, 11 km north of the road connecting Darłowo and Ustka, and close to Lake Wicko (1058 ha). The city is located on a high cliff facing the sea.
The first known record of the place dates back to 1459. It has been a fishing village from ancient times, where fishermen in vacant hours also collected amber on the beach.
tourist facilities
The only access road to Jarosławiec is called inside the town of Bałtycka Street; here are several holiday centers and the like. Parallel to this, far out to sea, the street Nadmorska runs along the cliff; On this street and in the center are most shops and here the nightlife unfolds.
The small town has both guest houses, holiday centers, tavern, private room rental, camping and tent site. There is also a pharmacy and bus stop. In season there are post office, bank and exchange office; you can rent bicycles and use the tennis court.
Tourist attractions
The lighthouse
A major tourist attraction is the lighthouse. Already in 1818 the necessity of a lighthouse was mentioned. After certain construction problems, the current tower was inaugurated in 1838. The height of the tower itself is 33.3 m and the terrain where it stands is 20 m above sea level.
Surrounding Area
A popular destination is the nearby Wicko Lake. Many also embark on a longer stroll along the beach in the direction of the seaside resort of Darłówko.
In Darłowo (18 km away) there is a medieval castle where the Danish king, Erik of Pomerania, was born and died.
In Darłowo and Ustka there are ports, from where there is a ferry connection to Bornholm in the summertime.
Accommodation
Other Internet sites and sources
Translated into English by Google Translate. Spangshus.dk accept no liability for any errors or omissions in translation.