(Short edition)

Lot from central Bydgoszcz seen from the bridge over the river Brda. To the right are the old warehouses. – Picture of Dominican_a from Pixabay
Distance
Chełmża
48 km NE,
Szubin
23 km SV,
Gniewkowo
63 km SE,
Nakło nad Notecią
30 km V,
Solec Kujawski
27 km SE,
Population
356.936
Location and history
Bydgoszcz is located in the Kuyavian-Pomeranian region. It is the largest city in the county and seat of the county administration as well as the county governor. It is one of the largest cities in Poland (no. 8 in terms of population and no. 10 in terms of city area). Bydgoszcz is located on both sides of the Brda River, just before its exit in Wisła. The distance to Gdańsk to the northeast is 170 km, while 285 km to the southeast to Warsaw. Around the city, but especially to the south of it, extends a large complex of woodlands, called Puszcza Bydgoska. In the southern part of Bydgoszcz (about 3 km from the city center) there is an airport with connections to Warsaw and abroad: England, Ireland and Germany. There is also a river port in town. There are good rail and highway connections to all parts of the country.
The town was granted market town rights in 1346, but its history dates back at least 200 years, even back to about 1038, if you take the building of a fortress in Wyszogród at Wisła (today within Bydgoszcz' urban area) as a starting point.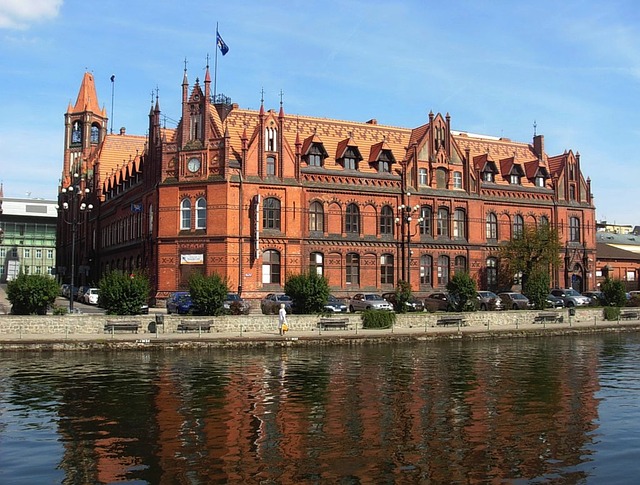 The main post office in Bydgoszcz. – Picture of David Mark from Pixabay
Tourist attractions
Selected attractions:
Among the many tourist attractions in the old town include:
Cathedral (St. Martin and Nicholas Church)
- originally built between 1346 and 1364.
Bernardinerkirken
The former Bernardin Church, originally built around 1485.
Bymuren
Preserved parts of the city wall from the 15th century.
Surrounding Area
Accommodation
Other Internet sites and sources
Bydgoszcz (The official site of the city – in Polish, English)
Powiat Bydgoski
Translated into English by Google Translate. Spangshus.dk accept no liability for any errors or omissions in translation.