The pedestrian street ul.Dworcowa in Kartuzy. – Picture of vvaldi from Pixabay
Distance
Population
15.600 (2005)
Location and history
Kartuzy is located in the Kaszubian lake landscape and is considered the capital of Kaszubia. The town is surrounded by lakes and wooded ridges. This cultural center in the region is visited annually by a number of tourists.
The city's name derives from the monastic order (Carthusian Order), which in 1380 was called from Prague. The order gradually collected large properties on its hands. The Abbey complex of the Order was erected 1380-1405. Around the monastery the city of Kartuzy emerged. By the partition of Poland in 1772, the city came under Prussia; in 1920 Kartuzy became Polish again. In 1923, the city was granted commercial property rights.
Kashubian and Kashubian: Kashubian is a Slavic language which – like Polish – belongs to the Lekhitic subgroup of the West Slavic language group. The language is spoken by a minority group in the Caszubian sub-region of Pomerania.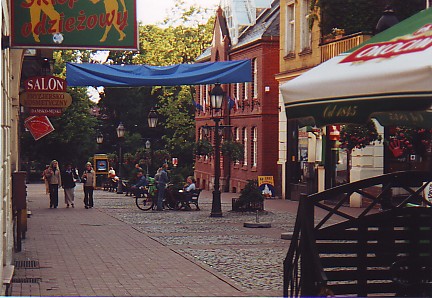 Street near the square in Kartuzy
Tourist attractions
The monastery
On the banks of the monastery lake are the buildings of the former monastery.
The Abbey church from the 14th century. attracts the gaze even at a long distance with its tower, adorned with a Baroque-style helmet and the roof, reminiscent of a chest of drawers. In the one-ship church room, the main altar in Baroque style.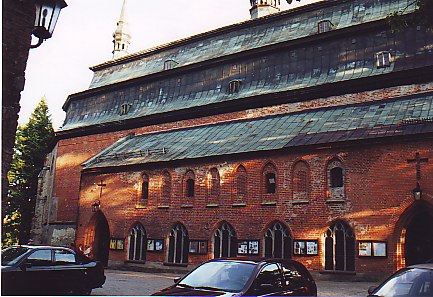 Monastery church ship
The monastery's refectory (monks' dining room) is now decorated as an art gallery: Galeria Refektarz, inaugurated in 1995.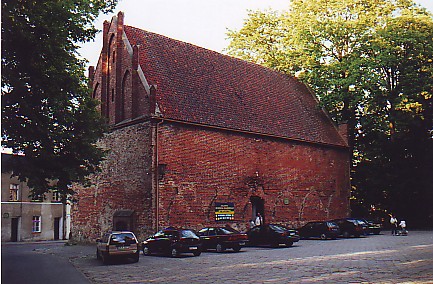 The refectory of the monastery
Kazimierz Church
on the town square is listed from 1885-1887. The tower is 50 meters high. The church was formerly Lutheran, but is now a Catholic church.

Kazimierz Church in Kartuzy
The Caszubian Museum
tells in his collections about all aspects of the daily life of the Caszubian people.
Surrounding Area
To the west of the city is a large area designated as the Caszubian Landscape Park. A hilly landscape with numerous lakes offers great nature experiences.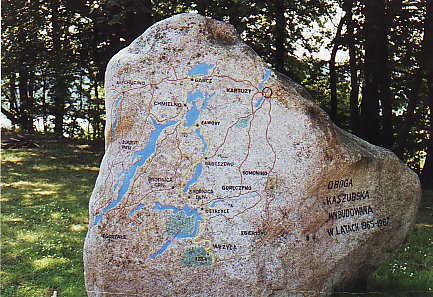 Stone on the Złota Góra ridge with a drawing showing the course and lakes of the Caszubian lake landscape
The village Chmielno (about 9 km west of Kartuzy) lies beautifully between 3 lakes (Biały, Kłodno, and Raduński lakes). The village is a widely visited resort and has a long tradition in the making of ceramics, embroidery and painting on glass. Kayaking is possible on the lakes.

Landscape in Kaszuby
The village Ostrzyce is located picturesque by Lake Ostrzyce approx. 12 km south of Kartuzy and only about 40 km from Gdansk. The scenic surroundings and the clean air encourage hiking in the area and boating on the lake.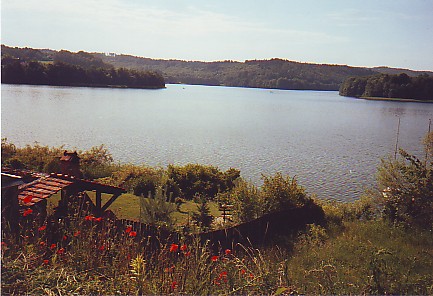 Ostrzyce Lake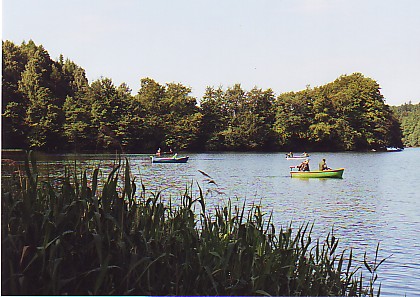 Ostrzyce Lake
Accommodation

Accommodations in Kartuzy and surroundings: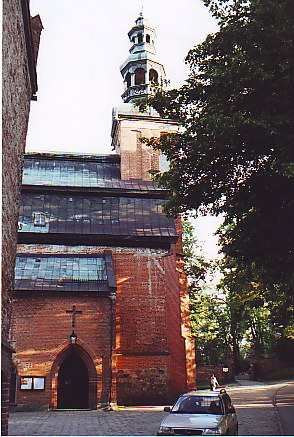 Kartuzy. Abbey church tower
Links to other pages
Translated into English by Google Translate. Spangshus.dk accept no liability for any errors or omissions in translation.