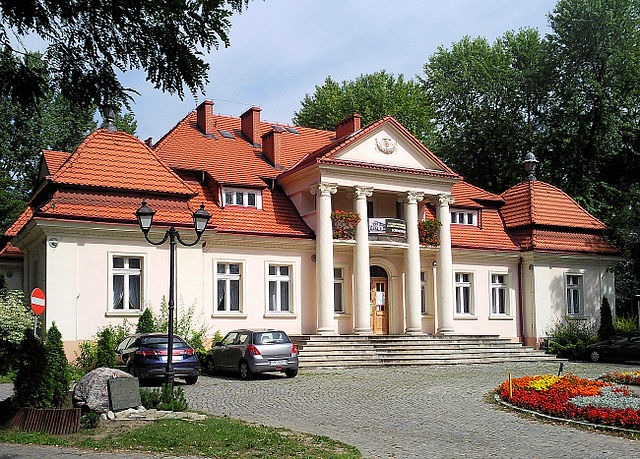 The Saturn mansion. – Photo by: Andrzej Hajdas, Muzeum Saturna, CC BY-SA 3.0
Distance
Population
33.556 (2010)
Location and history
Czeladź is located in the Upper Silesian industrial area, northeast of Katowice.
It is the oldest town in the Upper Silesian coal district. The name of the city was first mentioned in 1228 and Czeladź gained market rights around 1257. From 1443 the city belonged to the Bishop of Kraków (Principality of Siewierz). In 1790, the Principality and thus Czeladź were incorporated into the Polish Kingdom. From 1860 onwards, Czeladź became an increasingly industrial city. two coal mines.
Tourist attractions
Downtown
Preserved is the medieval town plan with the square and the streets radiating from here.
"Pod Filarami"
The mansion "Under the Pillars" built in 1924 in the neoclassical style of the coal mine Saturn.
The Saturn mansion
- which now houses a Roman bath and a hotel.
Surrounding Area
Accommodation
Other Internet sites and sources
Translated into English by Google Translate. Spangshus.dk accept no liability for any errors or omissions in translation.