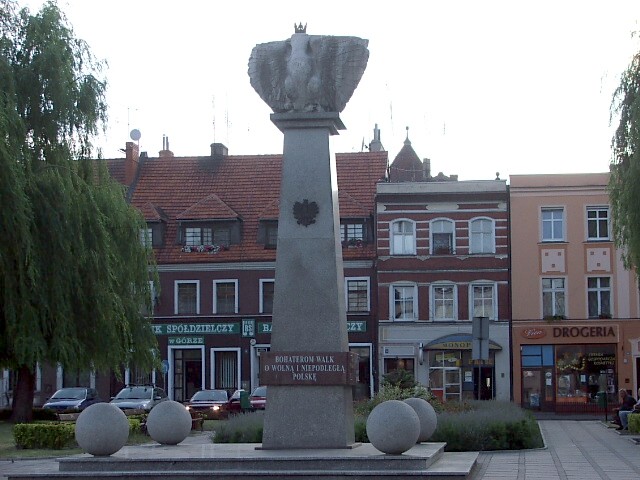 A memorial in the center of Góra, dedicated "The heroes who fought for a free and independent Poland"
Distance
Ścinawa
37 km SV,
Żmigród
41 km SE,
Population
12.805 (2007)
Location and history
The town of Góra is located in the northwest of the Lower Silesia region. Major cities nearby are Głogów to the west, Wschowa to the northwest, Leszno to the north and Rawicz to the southeast.
The village of Góra is known since 1155. The town of Góra was founded on the same site in 1288. From 1741 to 1945 the town was under Prussian (German) rule.
Tourist attractions
Among the architectural sights should be mentioned:
Głogów Tower (in the Middle Ages part of the fortification of the city); Bymuren (the remains of the medieval fortifications); The water tower ; Church of Saint Catherine ; Church of the Body of Christ ; The prison (part of which is a medieval defense tower, part of the fortification of the city).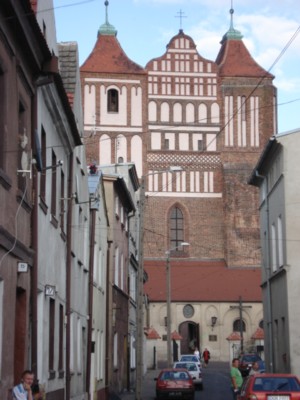 St. Catherine's Church
Surrounding Area
The entire municipality of Góra is located in the river Barycz' catchment area. Barycz, which runs approx. 6 km south of the city, is a right tributary to Odra. In connection with the river there is a 50 ha water reservoir at Ryczeń (6 km south of Góra), where angling is possible.
Accommodation
Other Internet sites and sources
Góra The city's official site
Powiat Górowski – district of the district, in Polish, English, German and French
Translated into English by Google Translate. Spangshus.dk accept no liability for any errors or omissions in translation.