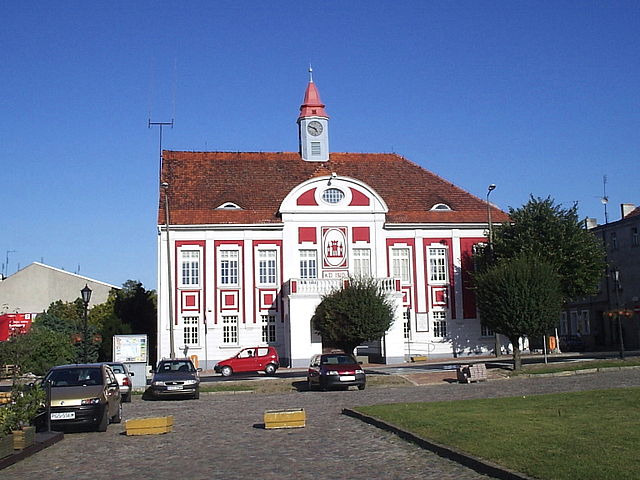 Gostyń City Hall.- Photo by: Jan Jerszyński, Gostyń ratusz, CC BY-SA 2.5
Distance
Pleszew
62 km E,
Population
20.239 (2014)
Location and history
The town of Gostyń is located in the Wielkopolska region, south of Poznań.
The town name is first mentioned in the sources in 1275. In 1278, the town's owner, Mikołaj Przedpełkowic, was granted permission by King Przemysł II to found a town here. The wars with the Swedes in the 17th century. and the plague in the 18th century. was devastating for the city. From 1793 – at the division of Poland – the city belonged to Prussia. Many of the city's wooden buildings were destroyed by the great fire in 1811.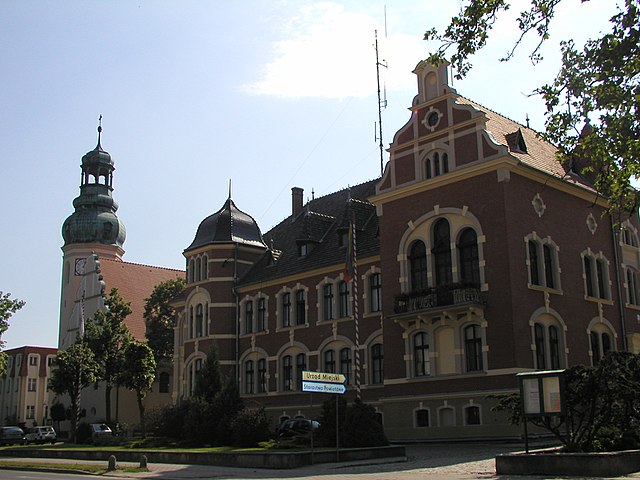 Gostyn District Council House and (rear) Holy Spirit Church. – No machine-readable author provided. Basik07 assumed (based on copyright claims)., Gostyń 050, CC BY-SA 2.5
Tourist attractions
Selected attractions:
Margaret's Church
The Gothic Parish Church is dedicated to the Holy Małgorzata. A church probably existed at the site by the end of the 13th century. The church of Saint Malgorzata was erected as a one-ship building in 1418-1436. In the second half of the 15th year. sideboards and a choir. The square in front of the church is surrounded by a wall with a gate from the 18th century.
City Hall
got its present form in 1910-12. (See photo at the top of the page).
Holy Spirit
was built in 1907-09 in the neo-Renaissance style as a Protestant church. After World War II, the church was converted into a Catholic shrine. (See photo above).
The monastery complex at Święta Góra
On a moraine hill northeast of the city center, called Święta Góra (Holy Mountain), lies the Oratorian Monastery with a monastic church. The church was built in 1675-1698 in Baroque style, while the current monastery buildings were built in 1732-1748.
Surrounding Area
Accommodation

Gostyń – in Polish and English
Other Internet sites and sources
Gostyń – in Polish and English
Translated into English by Google Translate. Spangshus.dk accept no liability for any errors or omissions in translation.