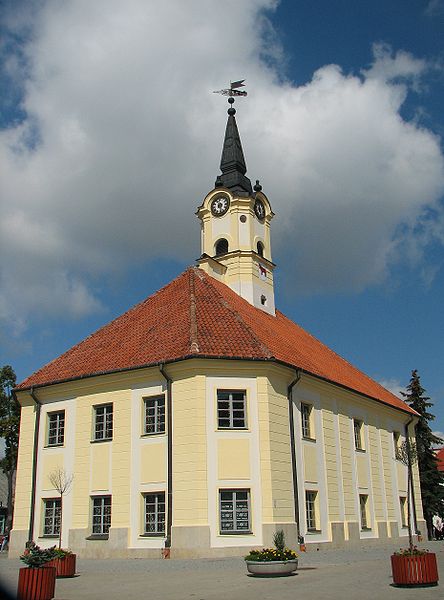 The old town hall building in Bielsk Podlaski (now a museum). Photo by: Brosen, Bros bielsk podlaski ratusz, CC BY-SA 3.0
Distance
Population
28.200 (2003)
Location and history
Bielsk Podlaski is located on the Bielsk plain in the southern part of the Podlasie region. The Bielsk municipality is bounded to the north by the upper river of the Narew River, to the east by the Białowieża primeval forest. The municipality is located in an area where Polish, Belarusian and Ukrainian culture meet. This cultural diversity is reflected in the folklore, the architecture and the various religious communities to which the inhabitants are associated. Bielsk is the capital of Bielsk Powiat (district).
A fortified city existed here as early as the 11th year. In a document from 1253, Bielsk is described as "an old settlement". The place belonged to the Russian princes at this time. The elevation on which the castle was located is now called Góra Zamkowa (Castle Hill). The castle itself in Bielsk burnt down after a lightning strike in 1564. From the beginning of the 14th century. and approx. For 250 years, Podlasie and Bielsk belonged to the Grand Principality of Lithuania. In 1495, the Lithuanian great prince Alexander gave the city market town rights as well as a city coat of arms. In Poland's third division, Bielsk came first under Prussia and then under Russia. During World War II, the city was occupied first by the Germans, then by the Soviet Union; after Germany's assault on the Soviet Union, a new German occupation followed.
Tourist attractions

New Russian Orthodox Church (cerkiew) in Bielsk Podlaski
The old town hall building in late Baroque style from 1779 (now museum).
Church Buildings. The cityscape of the relatively small town is characterized by many church buildings, both Catholic churches and – not least – Russian Orthodox churches (cerkwie). Highlights must be: (Catholic): Virgin Mary's Nativity Church and Church of God Mother from Mount Carmel (with monastery) as well as (Orthodox): Nativity Church of the Most Holy God, Church of the Resurrection Church, St. Michael's Church, Holy Trinity Church and the Holy Mary Church.
Planty City Parks.
Accommodation

Gmina Bielsk Podlaski – with practical information for tourists
Other Internet sites and sources
Translated into English by Google Translate. Spangshus.dk accept no liability for any errors or omissions in translation.