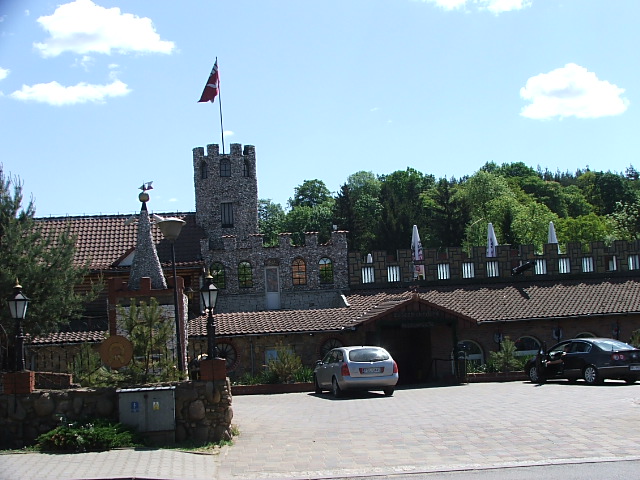 A motel in the center of Torzym, erected so that it is reminiscent of a medieval castle
Distance
Świecko (tysk grænse)
35 km V,
Berlin
139 km V,
Frankfurt an der Oder
37 km V,
Sulęcin
15 km N,
Population
2.700
Location and history
The small town of Torzym is located in the western part of the Lubusz region, by Lake Ilno and the river Ilanka (a tributary to Odra), surrounded by forests and hills. The city's location at a short distance from the German border and on the A2 motorway connecting Warsaw and Poznań with Berlin is important for the city's development.
The town's name in the German era was Sternberg, a name associated with Archbishop Konrad von Sternberg of Magdeburg, who in his time (2nd half of the 13th century) owned the site and who built a castle about. 2 km north of the current city center. From around 1450, the castle was inhabited by German robber knights who systematically looted prodigious merchants. A little after the year 1500 the castle was leveled with the ground. It was never rebuilt since then and today there is no trace of it.
About 1300 the parish church in Torzym is mentioned for the first time in the documents. The town gained market town rights in 1375. A major fire in Torzym in 1824 destroyed many buildings. The city was largely destroyed during World War II, and as a result of the devastation, in 1945 the city lost its market town rights. However, Torzym regained these rights again in 1994. The parish church, which had been rebuilt in the post-war period and provided with new equipment and new decoration, was inaugurated in 1994. The new digital organ was supplied by a company from Lillehammer in Norway.
Torzym municipality is characterized by agriculture, but with considerable opportunities for tourism development. The municipality belongs to the district of Sulęcin. The population of Torzym municipality is approx. 7200.
Torzym is surrounded by dense pine forests, and near the town are several lakes with excellent bathing water. The large wooded area to the south, which extends all the way down to Krosno Odrzańskie, is called Puszcza Lubuska.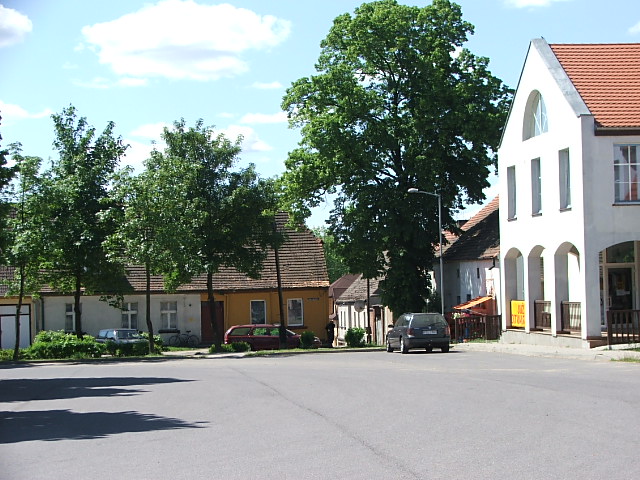 From Plac Wolności in Torzym
Accommodation
The city offers numerous accommodation options, especially in the form of motels.
Torzym. Gminny Portal Internetowy – with practical information for tourists
Other Internet sites and sources
Torzym. Gminny Portal Internetowy (Official site of the municipality)
Literature:
Lüderitz, Jörg: The Sternberger Land. Reiseführer. – Berlin, Trescher Verlag, 1998. 216 p.
Translated into English by Google Translate. Spangshus.dk accept no liability for any errors or omissions in translation.