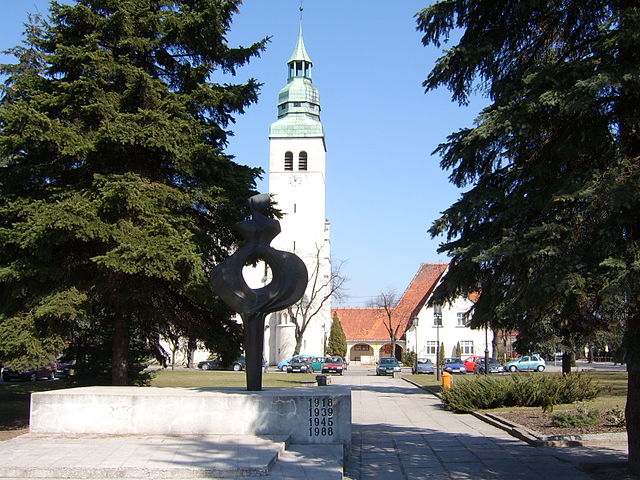 St. Barbara's Church in Luboń. – Photo by: Anonymous, Lubon kosciol, CC BY-SA 3.0
Distance
Szamotuły
49 km NV,
Grodzisk Wielkopolski
46 km SV,
Mosina
13 km S,
Swarzędz
20 km NE,
Population
30.939 (2014)
Location and history
The town of Luboń is located in western Poland, in Wielkopolska County, immediately south of Poznań.
The city was created in 1954 by merging 3 villages: Luboń, Żabikowa and Lasek. In the same year – 1954 – the new city was granted commercial property rights. The two first-mentioned villages can trace their name to respectively. 1316 and 1283.
A significant portion of the population today goes to work in Poznań but the city of Luboń itself is also a center for industry and service activities. In recent years, Luboń has been characterized by strong population growth. Consequently, new residential construction is constantly being planned and new services are being sought, as are new recreational areas. Several industrial branches are represented in the city, especially though manufacturing of building materials and chemical industry.
Transport to and from the city is good, as the A2 motorway passes through Poznań's southern suburbs, immediately north of Luboń.

The river Warta by Luboń. – Photo by: Dariusz Ceglarek, Warta w Luboniu, CC BY-SA 3.0
Surrounding Area
rivers:
Just east of Luboń runs the great river Warta, which also flows through Poznań. Warta is Poland's third-longest river (after Wisła and Odra).
Poznań :
Incidentally, the area is, of course, characterized by its northern neighbor, the metropolis of Poznań, with which Luboń is actually built.
National Parks:
A few kilometers south of the city, the Wielkopolski Park Narodowy National Park begins.
Accommodation:
Eating Out:
Other Internet sites and sources
Translated into English by Google Translate. Spangshus.dk accept no liability for any errors or omissions in translation.