Panoramic view from the square in Kęty. – Photo by:
Polimerek
,
Kety Rynek panorama
,
CC BY-SA 3.0
Distance
Population
19.400 (2005)
Location and history
Kęty is located in the Soła River Valley, just north of the Beskid Mały mountain range. The city is located in the western part of Małopolska county; the border with Silesia passes just south of the city. It is only 19 km southwest to the nearest major city, Bielsko-Biała.
The city of Kęty was founded in 1277 and gained market town rights in 1391. The city's foremost flourishing took place during the Jagiełło dynasty, where Kęty – from 1457 – became the king's property. In 1772 – at the division of Poland – Kęty came under Austrian rule.
The city's pride is the born here, learned theologian Jan Kanty (1390-1473), professor of theology in Kraków, canonized in 1767, the city's patron saint as well as the patron saint of academic teachers and students.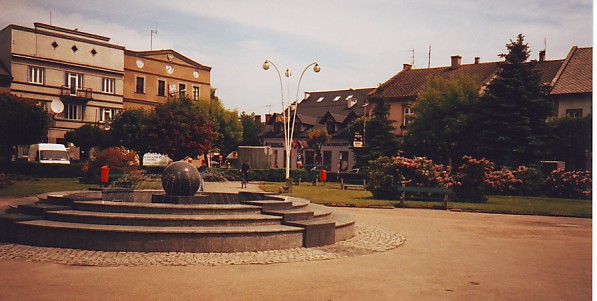 Kęty. In the city center
Tourist attractions
Saint Małgorzata and Katarzyna Church:
The Parish Church, St. Małgorzata and Katarzyna Church were built in the 14th century. Gothic style and rebuilt in 1685 – after a fire – in Baroque style, but with the preservation of the Gothic choir.
Saint Jan Kanty Church:
Built in 1648 as a one-ship church, built in 1715. The church is in Baroque style.
The Monastery and Church of the Reformed Franciscan Brothers:
The monastery and church were built in 1705-1712 in Baroque style.
The Monastery of the Risen Lord Sister Order
The monastery is built in the 19th century. as the first Polish monastery for this order.
Swimming pool
at the address: os.Nad Sołą 29.
Surrounding Area
Bulowice:
In the village of Bulowice, approx. 3 km east of Kęty, is a castle building, built about 1882 in English, neo-Gothic style and surrounded by a park of 6 hectares. The castle is a neo-Gothic imitation of Huntly Castle in Scotland.
Accommodation
Other Internet sites and sources
Kęty. Internetowy Serwis Miasta in Gminy (Official site of the municipality)
Translated into English by Google Translate. Spangshus.dk accept no liability for any errors or omissions in translation.