(Short edition)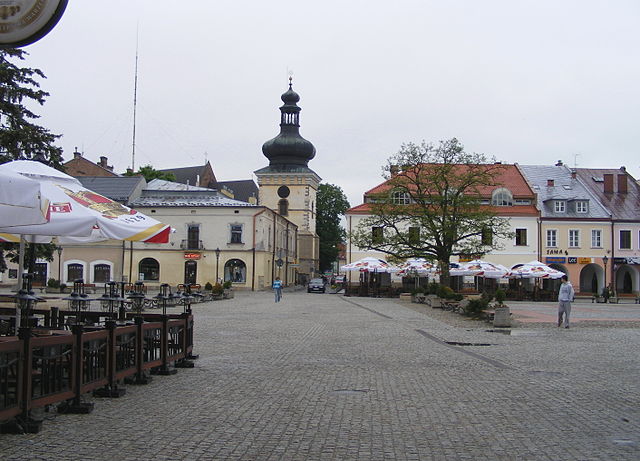 The square in Krosno. – Photo by: I, Stanislaw Szydlo, Krosno rynek square, CC BY-SA 3.0
Distance
Brzozów
25 km E,
Dynów
50 km NE,
Iwonicz-Zdrój
15 km S,
Population
50.000 (2010)
Location and history
Krosno is located in the Podkarpacie region, in a valley that flows through the river Wisłok, southwest of the regional capital Rzeszów. The city is crossed by highway 28, going west-easterly, from Zator (west of Kraków) in Małopolska to Medyka (east of Przemyśl) at the Ukrainian border.
The city is renowned for its manufacture of high quality glass, both hand-blown and machine-made glass for any purpose.
There was urban development on the site as early as the 10th century. Krosno became a market town in 1342 and for centuries was a significant commercial city and a regional center.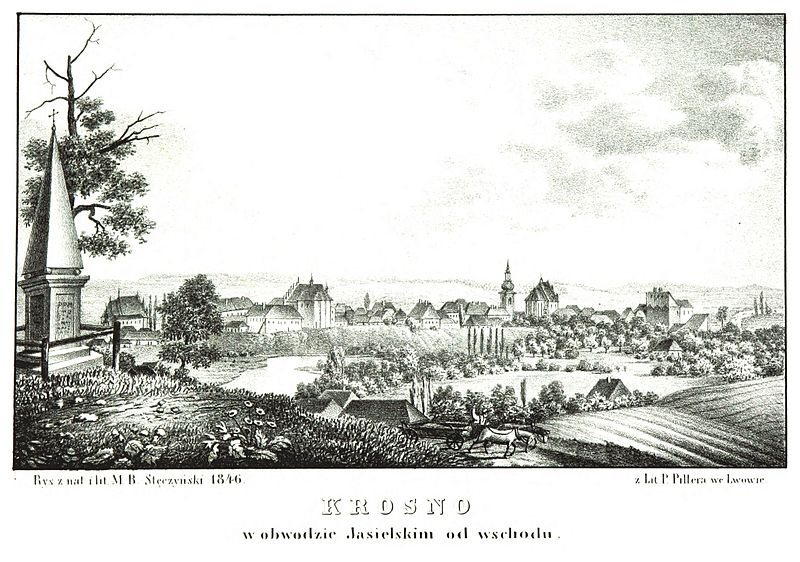 Manufacture of Krosno from 1846. – anonymous, JABLONSKI (1847) p058 – KROSNO, mark as public domain, more details on Wikimedia Commons
Tourist attractions
Selected attractions:
Square
The old town square was probably designed by the town's establishment in the middle of the 14th century. Initially, however, it was slightly smaller than the current one and it was surrounded by wooden houses, which over time were gradually replaced by ground-walled houses. Several of the current houses at the square date from the 16th and 17th centuries, a single from the 15th century.
Bymuren
Construction of a city wall began in the 1360s. Along with the wall was built the parish church, whose tower was part of the wall. In the 16th century. In addition, an outer wall was started, first to the south and west. Today, only a few fragments of the inner wall are preserved; moreover, part of the outer wall has been reconstructed.
Trinity Church
The parish church – the Trinity Church – was originally erected in the middle of the 14th century. The parish is considered to have been founded in 1342. The first church was a Gothic brick building the size of the present choir. Of the original tower, the lower floor is preserved to this day as the church's south-west porch. Next to the present church stands a seventeenth-century early Baroque-style bell tower crowned with a distinctive tower helmet.
Franciscan
This Gothic, three-story church building is the oldest in Krosno; it is listed in several stages; the oldest parts – the lower boulders of the choir and sacristy – date from the end of the 13th century.
Kopernik Statue
In front of the Kopernik-Gymnasium stands a statue of Mikołaj Kopernik, executed by local sculptor Stanisław Kochanek.
Podkarpacie Museum in Krosno (Muzeum Podkarpackie)
The collections of this large and significant regional museum are presented in the former Episcopal mansion.
Surrounding Area
Accommodation
Other Internet sites and sources
Krosno – in Polish, English and German
Translated into English by Google Translate. Spangshus.dk accept no liability for any errors or omissions in translation.