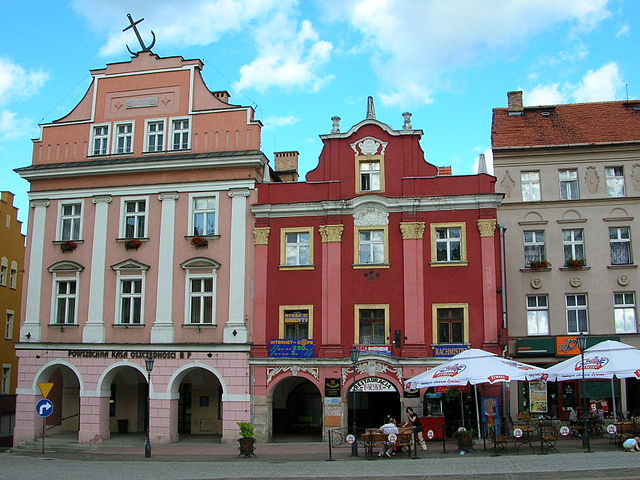 Conserved buildings at the square in Wałbrzych. – Photo by: Macdriver (Bartek Wawraszko), PL Walbrzych Kamienice, CC BY-SA 3.0
Distance
Lubawka
30 km SV,
Population
119.955 (2011)
Location and history
Wałbrzych is located in the southwest of Poland, southwest of the regional capital of Wrocław. It is the second largest (after Wrocław) town in the county of Lower Silesia. Wałbrzych is a prominent industrial city, where the largest pottery industry in Poland can be found.
The building on the site existed as early as 1191. Secure knowledge of Wałbrzych as a city exists from 1305. The town gained market town rights around the year 1400. A dynamic development of industry in the city took place in the 19th and early 20th century, .a. manufacture of textiles, ceramics, glass and metals.
Tourist attractions
Książ Castle (13.arh.)
located in the district of Książ, is the third largest castle building in Poland.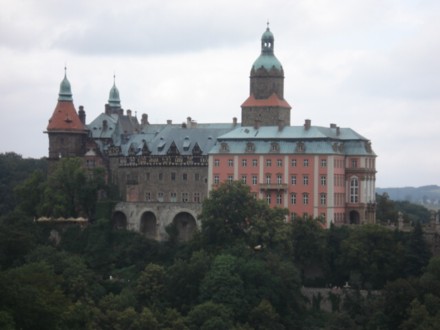 Castle Książ on the northern outskirts of Wałbrzych
Old Książ (Stary Książ) (10th century castle)
today a ruin.
The castles Nowy Dwór (14.arh.)
The castle was expanded in the 15th century. and remodeled in the 16th century. in the Renaissance style.
Rynek
The square, the city's central square, which houses several listed buildings from the 18th century.
Surrounding Area
Szczawno-Zdrój
The town is located a few kilometers northwest of Wałbrzych in approx. 400-450 meters above sea level.
The original village is first mentioned in 1221. Szczawno-Zdrój is a spa town and known as such since the Middle Ages.
Tourist attractions include: Complex of spa buildings, Kurparken, Kurhotellet "Grand Hotel", now sanatorium.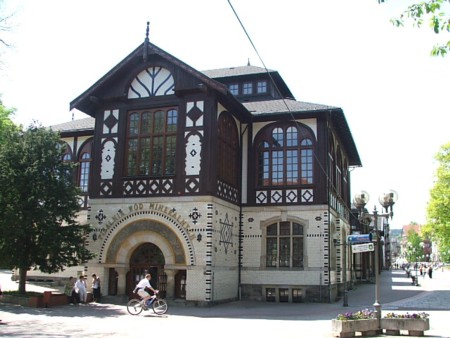 The mineral water drinking house in Szczawno-Zdrój.
Accommodation
Wałbrzych – in Polish, English, German, French and Czech
Eating Out:
Wałbrzych – in Polish, English, German, French and Czech
Other Internet sites and sources
Wałbrzych – in Polish, English, German, French and Czech
Translated into English by Google Translate. Spangshus.dk accept no liability for any errors or omissions in translation.