Museums and memorials in former KZ camps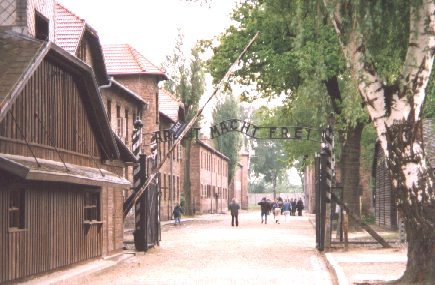 Entrance to the former concentration camp in Oświęcim (Auschwitz)
The locations of the camps in Poland can be seen on the map below:
The map is clickable on the black circles and squares that show the location.
Stutthof
Concentration camp
Location: Sztutowo
Distance
Malbork
43 km SV,
Nowy Dwór Gdański
19 km SV,
Pruszcz Gdański
42 km V,
Krynica Morska
19 km E,
Tczew
63 km SV,
links:
KL Stutthof
Stutthof – Sztutowo
KZ Stutthof

The camp in Sztutowo
Treblinka
extermination
Location: Treblinka
Distances in km
Warsaw – page 1 102 sv., Wyszków 47 sv., Pułtusk 77 v., Ostrołęka 61 nv., Ostrów Mazowiecka 19 nv., Lomza 66 n., Zambrów 51 n., Małkinia Górna 4,5 n., Białystok 119 no., Wysokie Mazowieckie 71 no., Ciechanowiec 38 island., Sokołów Podlaski 36 lake., Węgrów 52 p.
links:
Death Camp Treblinka
Treblinka
Chelmno
extermination
Location: Chełmno
Distances in km
Kalisz 80 sv., Turek 41 sv., Poznań 148 n., Konin 43 n., Koło 13 n., Kłodawa 26 n., Kutno 62 n., Łęczyca 52 n., Łódź 81 Sun., Dąbie 6 Sun.
links:
Chelmno
Chelmno – Death Camp for Total Extermination
Sobibor
extermination
Location: Sobibór
Distances in km
Lublin 94 sv., Parczew 59 v., Radzyń Podlaski 94 n., Międzyrzecz Podlaski 97 n., Biała Podlaska 82 n., Terespol 71 n., Włodawa 7 n., Chełm 60 p.
links:
Death Camp Sobibor
Sobibór
Extermination Camp Sobibor
Majdanek
Concentration camp
Location: Lublin , the district of Majdanek
links:
Majdanek
State Museum at Majdanek
Extermination Camp Majdanek
Belzec
extermination
Location: Bełżec
Distances in km
Przemyśl 105 sv., Rzeszów 125 sv., Jarosław 72 sv., Lubaczów 38 sv., Leżajsk 91 sv., Biłgoraj 68 v., Lublin 130 n.d., Krasnystaw 77 n.d., Zamość 48 nv., Tomaszów Lubelski 9.5 n.
links:
Bełżec
Extermination Camp Belzec
Death Camp Belzec
Gross-Rosen
Concentration camp
Location: Rogoźnica
Distances in km
Kamienna Góra 48 sv., Jelenia Góra 60 sv., Lwówek Śląski 60 nv., Złotoryja 34 nv., Bolesławiec 70 n., Lubin 54 n., Legnica 26 n., Jawor 10 n., Wrocław 71 no., Idwidnica 29 s., Strzegom 8.5 s., Wałbrzych 32 s.
links:
The Gross-Rosen Concentration Camp
Gross-Rosen
Plaszow
Concentration camp
Location: Krakow , Podgórze district, near the Kraków Płaszów railway station.
links:
Plaszow
Plaszow
Martyrologia. Krakow-Płaszów
Auschwitz-Birkenau
extermination
Location: Oświęcim
Distances in km
Katowice 36 nv., Krakow 63 km island,Wadowice 31 Sun, Bielsko-Biala 33 s.
links:
Memorial and Museum Auschwitz-Birkenau
Auschwitz-Birkenau. Nazi Killing Center
Jelling Seminar: Poland: Auschwitz-Birkenau
Auschwitz & Birkenau Homesite
Auschwitz
Visit in Auschwitz / Birkenau
Links to other pages about the camps:
Gates to Hell. Nazi KZ Camps
Action Reinhard Camps
The Forgotten Camps
Translated into English by Google Translate. Spangshus.dk accept no liability for any errors or omissions in translation.