(Short edition)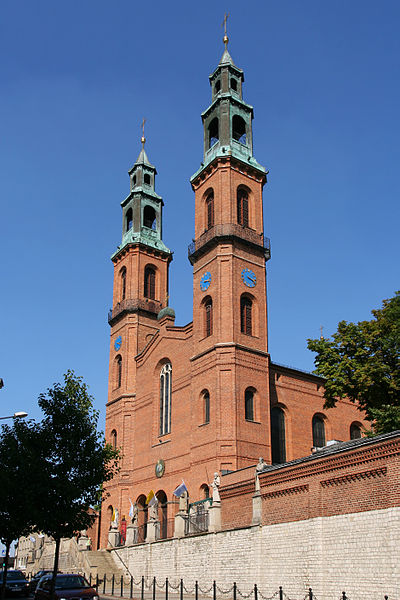 The Blessed Virgin Mary and St. Bartholomew' Basilica of Piekary Śląskie. – Photo by: Jan Mehlich, Piekary Śląskie – Basilica of St. Mary and St. Bartholome 01, CC BY-SA 4.0
Distance
Siewierz
28 km NE,
Pyskowice
28 km V,
Radzionków
6 km NV,
Population
57.345 (2010)
Location and history
Piekary Śląskie is located in the northern part of the large interconnected urban and industrial area, called the Katowice area, in southern Poland. – The town's name (piekarz = baker) probably dates back to the time when it was a village with several bakers delivering bread to the larger city Bytom to the south.
Already in the 12th year. this locality is mentioned north of Bytom, but at that time under a former name. In 1847, Teodor Heneczek founded the first Polish printing company in Upper Silesia in this city. In 1947, Piekary Śląskie was granted city rights.
Piekary is a city with rich traditions in the mining and ironworks industries. Occasions of calamine, zinc, lead and coal were found here. Within the municipality's area there is documentation of mining dating back to the beginning of the 18th century, but also raw materials were mined here, though to a lesser extent. From 1704 until the Second World War, 8 calamine mines, 3 zinc mills, 2 lead and zinc mills and 2 coal mines arose. Currently, the mining company Piekary is an association of 2 coal mines: Julian and Andaluzja.
Tourist attractions
Selected attractions:
The Blessed Virgin Mary and St. Bartholomew' Basilica
The church was built 1841-46 at the initiative of the priest Jan Nepomucen Ficek. In the church there is a picture of "The Mother of Justice and Love", an image that attracts several thousand pilgrims each year.
Kalwaria Piekarska
In Piekary a calwaria has been built, ie. an imitation of the path of Christ's suffering, where a number of chapels are erected along a path – frequently up a ridge, in this case up the slopes of the Cerkwica ridge. At the top is a neo-Gothic church: the Resurrection Church.
The fortifications in the fortified area of Śląsk
consisting of 13 shelters, 4 fake shelters, shelters camouflaged in a civilian building, located in the Kamień district of Długosz street, etc. The whole was built in 1938. The facility was discovered in 2001, then renovated and is now available to the public.
Surrounding Area
Accommodation
Other Internet sites and sources
Piekary Śląskie – in Polish, English, German and Russian
Translated into English by Google Translate. Spangshus.dk accept no liability for any errors or omissions in translation.